Out Of The Pan
Release date: 30/04/2018 Label: PAP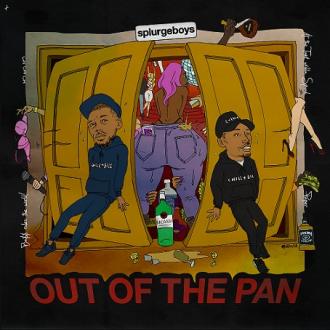 SPLURGEBOYS
'OUT OF THE PAN'

SPLURGEBOYS RELEASE 'OUT OF THE PAN' LP
For Splurgeboys, the 'Grind Don't Stop' is more than just track 5 of their last release 'Chill + Bill', it is something that they have proved to live by time and time again.

'Out of The Pan' is the latest addition to a growing catalogue from the South London artists, who simultaneously remain among the upper echelon of producers within the buzzing UK Grime/Rap scene.

This 11 track body of work is yet another evolution of sound for Splurgeboys staying just close enough to their signature flows, beats and lingo that it still has all the trademarks of a Splurgeboys X PAP classic.

SPLURGEBOYS WILL BE LIVE WITH DJ TARGET TONIGHT ON 1XTRA FROM 7pm

Just over a year after their debut LP 'Chill + Bill' reintroduced Splurgeboys as artist; Out of The Pan draws a picture of where brothers Tee and Rocket stand today, taking the listener on a sonic journey from start to finish.

A great example of how the synergy of writing and producing your own music can create a depth of sound and meaning that is difficult for most artists to achieve.

The whispered '...splurgeboys...' tag has become synonymous with heavy bass lines and complex drum patterns that have been a canvass to the country's biggest MCs. This LP only elevates the level of respect the name now commands.

Highlights since the release of 'Chill + Bill' include a sold out headline show, radio play at BBC, Capital Xtra and Kiss and play listing on Spotify's 'Grime Shutdown' and 'Rap UK' as well as Apple Music's 'Best of the Week' and 'Grime 2.0'.

Eager to let people know why they've been quiet these last few months, they will be releasing visuals for 2 of the tracks tonight as well as joining DJ Target for his 1Xtra show.

It only looks to be getting better for Splurgeboys and 'Out of The Pan' is testament to that. Be sure to listen early.
Track listing:
1. Hot from the Intro [Explicit]
2. Out of the Pan [Explicit]
3. In The Party [Explicit]
4. Never Lack [Explicit]
5. Patience [Explicit]
6. Diamonds (feat.James Pyke, Snowy Danger, Kadey James & Wolfgang Gray) [Explicit]
7. B4 I Go [Explicit]
8. Cameraphone [Explicit]
9. Splashing [Explicit]
10. Doing The Most (feat. Kadey James) [Explicit]
11. Time After Time [Explicit]
12. Hot from the Intro [Clean]
13. Out of the Pan [Clean]
14. In The Party [Super Clean]
15. Never Lack [Super Clean]
16. Patience [Clean]
17. Diamonds (feat.James Pyke, Snowy Danger, Kadey James & Wolfgang Gray) [Clean]
18. B4 I Go [Super Clean]
19. Cameraphone [Clean]
20. Splashing [Clean]
21. Doing The Most (feat. Kadey James) [Clean]
22. Time After Time [Clean]