Topics (feat. Blade Brown, Yung Fume & Ay Em)
Release date: 26/04/2018 Label: Virgin EMI / BEAR Records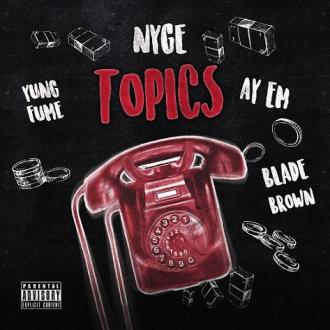 NYGE
"TOPICS" (FEAT. BLADE BROWN, YUNG FUME & AY EM)
AVAILABLE NOW

Nyge, the 24 year-old from Balham, South London and has been making waves in the production scene standing as the man behind some of the biggest songs to come out of the UK including Section Boyz's hit 'Lock Arf', AJ Tracey's 'Pasta' & Yxng Bane 'Diamonds'.

He got into producing around 4 years ago during college. It started off as wanting to be better than another producer in the room who was getting a lot of love for beats for which he thought were average. This was a catalyst behind him going home that same day, downloading FL Studio and practicing literally every day since then.

First track he officially produced was Section Boyz - Lock Arf which till this date is one of their biggest records. He worked on the New Gen album which was released via XL Recordings, and also produced majority of AJ Tracey's most recent project Secure the Bag which features the likes of JME, Denzel Curry, 67 and Craig David.

Further credits include: Makonnen, Yxng Bane, Craig David, JME, Young Fume, AJ Tracey, Hex, Headie One and more.
Track listing:
1. Topics (feat. Blade Brown, Yung Fume & Ay Em) [Explicit]
2. Topics (feat. Blade Brown, Yung Fume & Ay Em) [Clean]