What I Wanna (Conducta Remix)
Release date: TBC Label: MizerMillion Entertainment / Virgin EMI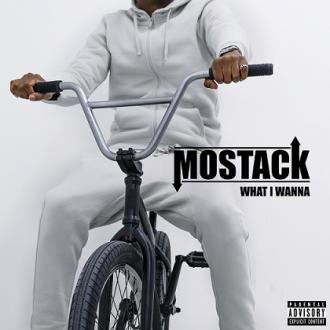 MOSTACK
"WHAT I WANNA"
* CONDUCTA REMIX *


WATCH THE VIDEO:

http://www.thefader.com/2018/02/27/mostack-what-i-wanna-song-video-london


North London rapper MoStack releases a hot Conducta remix for new track 'What I Wanna'. The compelling track is radiating with lighthearted energy accompanied by MoStack's effortless flow.
The stunning visuals were shot by award-winning director Kaylum Dennis and make this video an unforgettable one, taking viewers on a journey through breathtaking mountainous landscapes. MoStack shines among the beautiful scenery like the true star that he is, presenting to the world his groundbreaking vision and style setting the tone for an incredible year ahead.
"It's good to be back with my first solo release of the new year, another banger with my brothers ILL BLU on production. Hope you enjoy as much as I did making the track!" speaks MoStack.
Last year, MoStack had huge success with his debut mixtape 'High Street Kid' charting in the UK Top 20 album charts. The 10-track project included hit tracks 'Ussy Ussy' and 'Screw & Brew' featuring Mist amongst others and stands as a representation of MoStack's diverse and playful sound.
About MoStack -
MoStack saw huge success in his music in 2016 as he toured with Wretch 32, made BBC 1Xtra's A List with his club banger "Liar Liar" (remix), became a MOBO nominated artist and sold out his second headline show in under 3 hours (the first venue was upgraded to a bigger 1100 capacity venue when it sold out in an hour).
Track "Block Popping" racked up over 1.5 million views in a week and "Liar Liar" reached over 8 million views. Recent ILL BLU produced track "Let It Ring" has amassed over 9 million streams and 'Screw and Brew' taken from MoStack's 'High Street Kid' has over 10 million plays on YouTube to date, as the rapper continues to cater to his ground-breaking fan base with catchy energetic tracks.
Continuing to engage his growing audience MoStack has an unrelenting force of big tracks and has a talent far beyond the Internet. Last year the young star has already had headline shows in Sweden and Denmark on a mini European tour, cementing his journey as an international talent.
Known for his unique flows, imagination, stylish charisma and creative visuals, Mo has built a core and loyal fan base from the ground up. Named by BBC 1Xtra as one of the hottest artists to look out for in 2017, this year is set to be an astounding breakthrough year for MoStack.

Download/Stream 'High Street Kid': https://lnk.to/MostackHSK
https://www.instagram.com/mo.stack/
https://mobile.twitter.com/realmostack
Track listing:
1. What I Wanna (Conducta Remix)
2. What I Wanna (Conducta Remix) [Clean]
3. What I Wanna (Conducta Dub)