Bum Bum Tam Tam (Jax Jones Remix)
Release date: 16/03/2018 Label: Island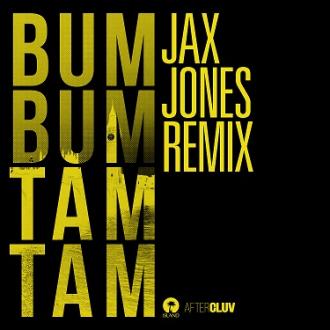 UK CHART DOMINATOR JAX JONES STEPS UP TO REMIX THE VIRAL TRACK OF THE YEAR - MC FIOTI, FUTURE, J BALVIN, STEFFLON DON & JUAN MAGAN
"BUM BUM TAM TAM"
Jax Jones is perhaps best known for his single "You Don't Know Me" ft. Raye, which hit Number 1 on the UK Singles Chart last year. He has also worked with huge names such as Demi Lovato and SteffLon Don, and has amassed over 500 million streams on Spotify alone. Fast forward to 2018, and he has flooded his production skills into MC Fioti's viral banger "Bum Bum Tam Tam", making his mark with the second official remix of the single.
Few songs truly capture the global milieu and create a moment. But enter Bum Bum Tam Tam. Already amassing 676 million hits on YouTube and 90 million streams on Spotify, Bum Bum Tam Tam became the viral song of 2017. The original Brazilian funk jam, which samples JS Bach's Partita in A Minor for Flute, has been reimagined by Island Records, who have brought heavyweights Future, J Balvin, Stefflon Don and Juan Magán together for the MC Fioti international anthem.
In the wake of global superstar and chart topper Jonas Blue remixing "Bum Bum Tam Tam", Jax Jones' club-worthy version proves that the single shows no sign of slowing down… the take over continues. Merging Latin, Hip Hop, and Dance, "Bum BumTam Tam" is the biggest crossover record of the moment, and rumour has it there are even more megastars looking to get their hands on the stems.
The Grammy nominated mixtape King, and the first artist in history to have two albums in two consecutive weeks reach #1 in the Billboard 200, Future, features on the huge track, alongside BRITs Critics Choice nominee and inimitable British rap talent Stefflon Don. Colombian reggaeton star and Global Spotify #1 with 'Mi Gente' J Balvin, and electro Latino remix veteran Juan Magán also collaborate for the cross-genre epic, produced by Brazilian talent MC Fioti.
Bum Bum Tam Tam is already a viral sensation and has been endorsed by celebrities across the globe, including Drogba, DJ Snake, and Shawn Mendez.
Bum Bum Tam Tam is out now on Island Records
Track listing:
1. Bum Bum Tam Tam (Jax Jones Remix)
2. Bum Bum Tam Tam (Jax Jones Alternate Edit)