Make Me Feel
Release date: 22/02/2018 Label: Atlantic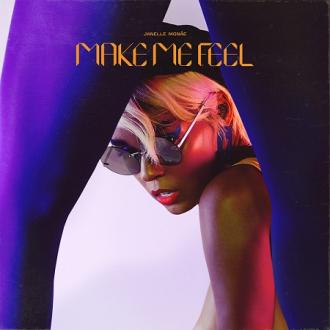 JANELLE MONAE TO RELEASE HIGHLY-ANTICIPATED THIRD ALBUM
DIRTY COMPUTER APRIL 27TH
TWO SINGLES WITH ACCOMPANYING VISUALS, "MAKE ME FEEL" AND "DJANGO JANE" — AVAILABLE TODAY
WATCH THE VISUALS

"MAKE ME FEEL"

"DJANGO JANE"
GRAMMY®-nominated singer-songwriter/performer/producer/actress/activist, Janelle Monae, unveiled new details of her highly-anticipated third solo album project, DIRTY COMPUTER. The "Emotion Picture" includes an album and an accompanying narrative film. The album is available for pre-order beginning today and arrives everywhere Friday, April 27th. Release date for the accompanying narrative film to be announced soon.
Today, Monae released two anthemic, electric singles, Make Me Feel" and "Django Jane" with complementary music videos from the Emotion Picture. All pre-orders include downloads of the premiere singles, both now available individually across all DSPs and streaming services.
"Make Me Feel" directed by Alan Ferguson, captures the spirited, celebratory voice of Monae as she affectionately nods to the ripe sounds surrounding the 1980's music and dance revolution. Delivering electric vocals, pop hooks and confident, female-driven lyrics, Monae brings the song to life in a vibrantly colored video highlighted by provocative silhouettes moving across the screen. "Django Jane" underscores Monse's ability to unleash her biting, unapologetic flow in a song that embraces contradictions as part of the beauty of individuality. The video was directed by Andrew Donoho and Chuck Lightning with additional vagina monologue footage directed by Lacey Duke. The song is a powerful black girl magic womanifesto that celebrates the strength of black women and black culture while addressing the trials and tribulations of identity in the 21st Century. Both videos are streaming now on Monae's YouTube channel.
The DIRTY COMPUTER project was heralded with a very special teaser that premiered last weekend ahead of screenings of Marvel Studio's history-making Black Panther. Notable outlets such as NPR, Billboard, and W Magazine, among others, praised Monae's cinematic range and vision. The trailer is streaming now via YouTube and Monae's official website. http://www.jmonae.com
2016 saw Monae embark on her film acting career with stellar performances in two milestone films, Hidden Figures and Moonlight; both films received Academy Award nominations for Best Picture, with the latter winning the award at the 89th Academy Awards.
Track listing:
1. Make Me Feel (Explicit)
2. Make Me Feel (Clean)