Ten Years Later EP
Release date: 24/01/2018 Label: 3Beat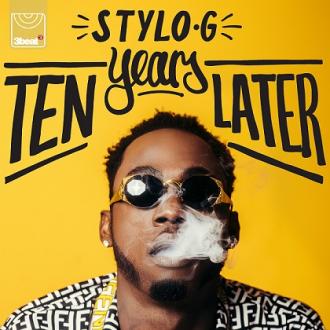 'TEN YEARS LATER EP'
3 BEAT
AVAILABLE FROM 24 JANUARY
UK star, Stylo G, has dropped his 'Ten Years Later EP', available from 24January on 3 Beat. The 5 track EP features guest appearances from a hotlist of vocalists and producers - Beenie Man and Fanatix ('10 Metric Ton'), Shakka and Banx & Ranx ('Under Construction'), Nia-V and Jr Blender ('Stone Cold Lover'), Junior Reid ('BreadMan'), and the streaming hit with Chip, 'Yu Ziimme', which was championed by Nicki Minaj, and later came with an All Star VIP featuring Lisa Mercedez and Ms Banks.
The 'Ten Years Later' EP is his largest body of work yet, and the diverse nature of the collaborators and tracks themselves reflect the richness ofStylo's music, while each one shows him hitting a game-changing stride. Off to a flying start, 'Under Construction (feat. Shakka)' was premiered last night by MistaJam on 1Xtra, and '10 Metric Ton' (feat. Beenie Man) is Target's Record Of The Week this week (also on 1Xtra). A remix of 'Stone Cold Lover' from Major Lazer producer Junior Blender will be released on 9 February.
Born Jason McDermott in Jamaica's Spanish Town, but a Londoner since the age of 15, the past year has seen Stylo G become a global rising star; the result of talent, hard work, and the international appeal of his music in the streaming age. Such is the demand for his fresh take on dancehall, he's played a relentless international tour schedule in the past 12 months, including headline shows in the USA, Japan, France, Czech Republic, Germany, Italy, Spain, Finland, Sweden, Netherlands, Israel, Switzerland, Ghana, Colombia, Croatia, Belgium, Jamaica, Dubai, and beyond.
Son of the legendary reggae artist Poison Chang, Stylo G has followed in his father's musical footsteps, making his mark in the UK when Grime was at its first generation peak and developing a pioneering style that bridges UK hip-hop and dancehall. Tipped as one of the most important black British artists of this decade, his singles including 'Soundbwoy', 'My Yout', and'Call Mi a Leader' have given him chart, streaming, and radio success alike. He's signed to 3 Beat, the label home of Sigma, High Contrast, Callum Beattie, and more.
Stylo's increasing profile has seen him work with Clean Bandit, Major Lazer, Dillon Francis, Shaggy, Wretch 32, Chip, Giggs, Lady Leshurr, Sneakbo and more. And, reflecting his friendship with one of the world's greatest athletes, the track 'Chariot' by Will Simms Feat Stylo G, is on the soundtrack and movie for the recent Usain Bolt film 'I Am Bolt'.
Stylo's 'Ten Years Later EP' launch party will take place at Brixton Jamm on 1 February.
Facebook - https://www.facebook.com/stylog/
Twitter - https://twitter.com/Stylog/
Instagram - https://www.instagram.com/officialstylog/
Track listing:
1. Yu Zimme (ft. Chip)
2. Breadman (ft. Junior Reid)
3. Under Construction (ft. Shakka)
4. 10 Metric Ton (ft. Beenie Man)
5. Stone Cold Lover
6. Stone Cold Lover (Jr Blender Remix)