Bermuda
Release date: TBC Label: Sweet Noise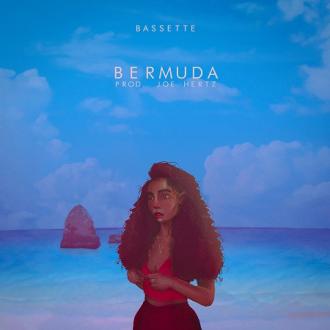 BASSETTE
"BERMUDA"
NEW SINGLE AVAILABLE NOW
Picture a darkened room, punctuated with the soft ambience of mood lightening. There are candles and the lingering fumes of an incense stick as the feeling of deep interaction hovers on the horizon. This is the world of Bassette and her powerful new single "Bermuda", produced by Joe Hertz. It's R&B at its most omnipotent.

Bassette was the main featured vocalist on the Joe Hertz single 'Playing For You' which premiered on the Pigeons & Planes and Fader blogs, and was added to New Music Friday & Viral 50 Spotify playlists. The song has now hit nearly 5 million streams, as well as being featured on Majestic Casual, The Sound You Need Music You Tube Channels.

With previous support for Bassette's music from 1Xtra djs Twin B & Target, as well as i-D magazine and Noisey, "Bermuda" is also set to make waves.

Born in Bermuda, the twenty two year old has built a career on a compelling bedrock of twists and turns. In her early years Bassette's family relocated to Scotland, a world away from the big, colourful houses of Bermuda and the generations of her family who continue to live on the Caribbean island. It's here - among the frozen moorlands and mountainous terrain of the UK's northernmost country – that she first shared her voice. "I kind of knew I could sing," she says modestly, recounting how a friend recorded her singing using a Pop Idol karaoke program, then subsequently showed that recording to "everyone". Like every R&B artist worth their salt, Bassette's voice has been destined to hit notes in the hearts of those who hear it, even from a young age.

Like Bermuda, Scotland also wasn't meant to be and the family moved once again – this time to Sheffield. Bassette spent her teens here, studying up on music by the likes of Erykah Badu, Amy Winehouse and Lauryn Hill – three important artists who are firmly rooted in the foundation of the soundscapes Bassette has been carving out. It was their sound, their voice, but also the way they wrote too. "You know Genius.com?" she says. "I would dissect the lyrics and the way of writing different things." Aged fourteen, the combination of soulful voices and self-education she had burrowed into inspired Bassette to begin penning her own tracks. "I would write a lot," she explains. "I have notepads and notepads and notepads of songs that no one will ever hear."

Given her early start one could think Bassette's songs started out the same as all other teenagers: focused on herself. But even then, and as they are now, her songs aren't so much about her as they are a empathetic mechanism for understanding the wider world, how it works, and the emotions within it. Weirdly, Bassette's creative approach started with one name: Jerry Springer. As both her parents had full time jobs, Bassette was free to watch whatever she wanted on television after school. So… she watched Springer. "I would try to feel what the person is feeling and empathise with them. Then I would go and write a song about what I'd just experienced."

It's this pathway toward trying to understand other people that lead to Bassette moving to university in London to study psychology. Initially enrolled as a business student to the appeasement of her parents, Bassette changed her mind at the last minute and switched courses. "I had a friend go through depression and as I learnt about it myself, I realised I was really interested in studying it for a degree." To this day, Bassette's family are unaware that she changed courses. "If I could tell you one thing", she says, "don't lie to your parents!".

With her mind constantly distracted by music and trips to the studio, Bassette ultimately knew university wasn't for her. "Every time I would go into uni I would be like 'Why am I here?'" she remembers. "I hated it; I hated it so much". Eventually she dropped out and moved back home to Sheffield where she's been working solely on her music career. This journey is documented on Bassette's collaboration with Joe Hertz, "Playing For You", a rare song in that it's told from Bassette's perspective. "Emptiness is weighing me me down", she sings, calling back to her student experience. "Let me take a break to figure this out".

With her future ahead of her, Bassette is now in a place where she can focus in on lining herself up with those R&B talents of yore. The showstopping voice is there, the passionate and touching lyrics are too. Now it's time to get to work. "Telling my Dad I was coming from university was probably the most difficult thing ever", she says. "He gave me his opinions, he thought it was a silly decision, but he couldn't stop me." It's a bold move yet one that proves Bassette's R&B world is only just opening up. "Once he sees things happening with my music he'll be supportive." No doubt. The universe is there and ready for Bassette to snatch it as her own.
Track listing:
1. Bermuda