WHO'S THAT GiRL EP
Release date: TBC Label: Music Matters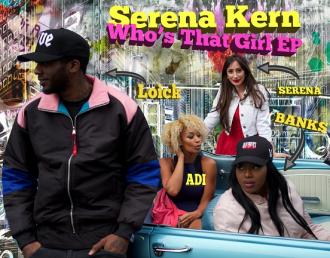 SERENA KERN
WHO'S THAT GiRL EP
Serena has been very busy this year. She has been teaming up with some of the UK's finest producers and artists. Marrying grime and urban beats with sweet R&B infused vocals, has had some super results. Serena has been busy working with the likes of: Ms. Banks, Ayo Beatz / Music Matters, Ruff Diamond and Loick Essien. The outcome is fabulous.
This new EP has 3 of her new tracks produced by Ayo Beats/Music Matters and Ruff Diamond Productions. With remixes by Nikita Sadykov (UNOME) of "Drop Top" feat Ms.Banks thrown in for good measure.
Serena has already established herself in the Asian music scene and also worked with some of music's most notable producers such as Rishi Rich (Jay Sean, Teddy Riley), Kenny Jones (The Smiths, Robbie Williams) and Andy Whitmore (Elton John, Terence Trent D'arby) to form her catalogue of critically acclaimed records including, Sui Generis, Gorgeous and Dream.
Serena has been exploring her new sound which brings together grime beats, good solid songs, sweet vocals and clearly some straight cool R&B productions creating a super package.
The EP includes 'Drop Top', produced by Ayo Beatz/Music Matters, which features underground rapper Ms Banks, a frequent collaborator with big artists such as Tinie Tempah, JME and has a fan in the US rapper Nicki Manij. Banks is steadily becoming a UK superstar and is rising and rising. The video also features a cameo from independent artist and founder of State of Mind Records, Loick Essien. Following this release Serena's next track will be a duet with Loick which by all accounts is another fabulous record.
She explains: 'These tracks are very different from what I've done before. Chris, from Music Matters, played the beat of Drop Top to me and said it would sound amazing with my vocal style. We recorded the track and everything just clicked. Ms Banks then decided to jump on it too, adding an extra edge! We then recorded the other tracks and here we are!'
Taking inspiration from the likes of Rihanna, Due Lipa, and Sia, Serena's music appeals to a wide audience. Although she has taken a new direction with her music, her fans certainly won't be disappointed by the new urban sound, which still features Serena's signature vocals and sultry style.
WHO'S THAT GiRL EP will be released early 2018.
Track listing:
1. Who's That Girl
2. Cinderella
3. Drop Top ft. Ms Banks
4. Drop Top ft. Ms Banks (EXT Remix)