Body (feat. Avelino ) [Control-S / Kokiri Remixes]
Release date: TBC Label: Virgin EMI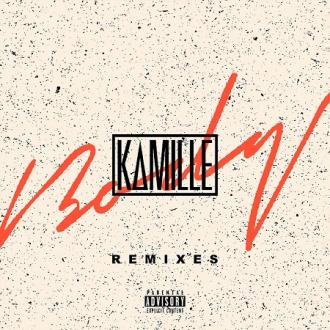 KAMILLE
'BODY' FEATURING AVELINO
* CONTROL-S / KOKIRI REMIXES *
* WATCH THE VIDEO *
Today marks the release of the final remixes of 'Body' by Kamille featuring Avelino, courtesy of Control-S and Kokiri. The 'Body' visual was premiered across FADER and is available across all Digital Service Providers. Directed by Crack Stevens, the visual for 'Body' is a cinematic ode to the uniqueness of each individual as it intimately pans across different figures throughout. 'It's about my own personal experiences, as well as those of others. it's about the way it feels when someone looks at you and makes a judgement before getting to know you. We all have things about our appearance that speak louder than we want sometimes' speaks Kamille.
The tender and sensual visual is empowering in reclaiming the narrative of normalized standards of beauty. Including individuals from all walks of life, the video features transgender model, activist and DJ Munroe Bergdorf as well as model Leo Jonah. The concept for 'Body' was a creative collaboration between Crackand Kamille, both wanting to show their own interpretations of the message by exploring the perspective of skin through the eyes of the naked camera. Kamille recalls 'We started to have this really personal conversation about the things we conceal, and how they are often the things that are actually beautiful about us.' This all resulted in the video taking a deeper meaning than the song Kamille wrote. It ultimately stood as a celebration of these flaws, the same things that many can build perceptions on.
'My dream would be that it makes people stop just for a second and celebrate their own flaws, and hopefully, just for that second, break the natural human instinct to discriminate against everyone else's. They are after all what make us beautiful.'

About Kamille:
Artist Kamille is an exciting new member of the Virgin EMI family, her work leading up to the beginning of a solo career as an artist has dominated the charts for the last few years. Penning #1 hits for Little Mix (Black Magic, Shout Out To My Ex) Kamille is one of the most sought after songwriters in the UK. Most recently she has written two songs on The Scripts #1 album including the hit single 'Rain'. She also wrote and features on the debut Ghosted single 'Get Some' which dominated the Spotify Viral charts on launch including #1 in the US and #2 in the UK. In addition to this, Kamille has previously worked with MNEK, Roll Deep, Labrinth, Craig David and Jessie Ware to name a few and recently has been in the studio with Jess Glynne and Yxng Bane.
Born to a Cuban mother and Jamaican father, Kamille (real name, Camille Purcell) had been immersed in music from a young age. Bashment, reggae, Stevie Wonder, Michael Jackson, the storied catalogues of Motown Records – she was raised on some of music's greatest songwriters. Neglecting to follow a paint-by-numbers blueprint yet never straying too far from the beaten track, Kamille has the capability to create music that captures distinct emotion in a direct, accessible way. Part of this comes from those early years spent in the church, studying the way sound can convey feeling. Having been hugely successful in her songwriting career, Kamille embarks on a new journey as an artist and without a doubt is one to watch this coming year.
'Body' is available to stream and download now https://Kamille.lnk.to/BodyPR
Track listing:
1. Body (feat. Avelino ) [Control-S Remix]
2. Body (feat. Avelino ) [Kokiri Extended Mix - Explicit]
3. Body (feat. Avelino ) [Kokiri Mix - Clean]