Ask Flipz (feat. Stormzy)
Release date: 20/10/2017 Label: Virgin EMI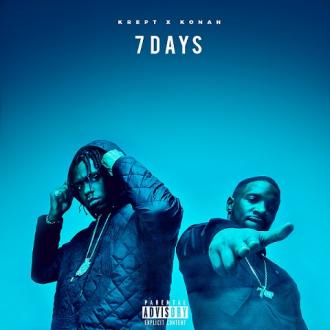 KREPT & KONAN
"ASK FLIPZ" (FEAT. STORMZY)
FROM THE 7 DAYS MIXTAPE


MIXTAPES 7 DAYS and 7 NIGHTS AVAILABLE NOW

Pioneering UK rappers KREPT & KONAN announce the simultaneous release of mixtapes 7 DAYS and 7 NIGHTS, available now, via Virgin EMI.
A UK first (no other British artist has released two mixtapes on the same day), 7 DAYS and 7 NIGHTS reflect the two sides of KREPT & KONAN's signature sound. While 7 DAYS boasts harder edged, grittier club tracks and features from J Hus, Skepta, Stormzy, Abra Cadabra and more, 7 NIGHTS showcases smoother, R n' B inflected, sultry jams and guest spots from Jhene Aiko, Hudson East and Tory Lanez. The first cuts to be lifted from the mixtapes were 'For Me' (from 7 NIGHTS) and 'Wo Wo Wo' (from 7 DAYS).
"We knew we wanted to create something special that served our fans who discovered us from Tsunami to Redrum to Young Kingz to The Long Way Home. We wanted to make music that covered the full spectrum of our sound. We knew we wanted the bangers and the jams, and we ended up with enough tracks that we could put out two mixtapes with different vibes." – KREPT & KONAN
The release of 7 DAYS and 7 NIGHTS signals a welcome return for the trailblazing duo whose ongoing critical acclaim and chart success has helped paved the way for the likes of J-Hus, Kojo Funds, Abra Cadbra, Yungen, Mo Stack and Section Boys (to name a few). From the 2013 release of their Young Kingz mixtape which shot into the top 20 of the Official UK album charts (earning them a world record for the Highest-Charting UK album by an Unsigned Act), through to the 2015 release of their debut album The Long Way Home (which became the highest charting British Rap album in UK chart history after debuting at no. 2 in the official UK album charts), KREPT & KONAN have repeatedly broken records while consistently breaking ground.
Since the release the critically acclaimed The Long Way Home, KREPT & KONAN have hit the road extensively, embarking on a sold out headline UK tour and a pan European double headline tour with Ty Dolla $ign, and performing at multiple festivals (including, most recently, V Festival 2017). All in addition to featuring on the Mobo Award winning remix of Abra Cadabra's 'Robbery' and MoStack's 'Liar Liar' remix alongside J Hus.
7 DAYS and 7 NIGHTS is available to stream and download across multiple platforms now.
7 NIGHTS: https://KreptandKonan.lnk.to/7Nights
7 DAYS: https://KreptandKonan.lnk.to/7Days
FOLLOW KREPT & KONAN HERE
https://twitter.com/Kreptplaydirty
https://twitter.com/konanplaydirty
https://www.instagram.com/kreptplaydirty/
https://www.instagram.com/konanplaydirty/


TRACKLISTING
7 DAYS
Champions League
Told You
Wo Wo Wo
One My Life (feat Skepta)
Robbery Remix (feat. Abra Cadabra)
Khalas (feat. R.A)
Sauce
Cold Summer (Krept Freestyle)
Ask Flipz (feat. Stormzy)
Last Night In LA (Konan Freestyle)
Get A Stack (feat. J Hus)
7 NIGHTS
Don't Lie
For Me
Ride For You (feat. Hudson East)
Wrongs (feat. Jhené Aiko)
Save Some (feat. Hudson East)
So Lit
Same Sh*t (feat. Tory Lanez)
One More Time
The One
Take Time (feat. Hudson East)
Track listing:
1. Ask Flipz (feat. Stormzy) [Explicit]
2. Ask Flipz (feat. Stormzy) [Clean]