You Ain't Mine ft. Popcaan (Zac Samuel Remix)
Release date: 06/10/2017 Label: Virgin EMI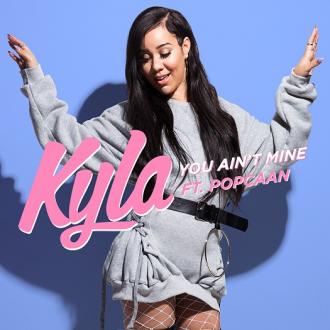 KYLA ANNOUNCES THE RELEASE OF HER NEW SINGLE 'YOU AIN'T MINE' FT. POPCAAN

Kyla is back with the release of her new single 'You Ain't Mine' Ft. Popcaan
The song was premiered on Mista Jam's 1xtra show
Stream/download track here:

* ZAC SAMUEL REMIX *
Kyla remains legendary to listeners of the UK Funky House scene. Forever infused in the psyche of British culture, her anthem 'Do You Mind' released back in 2009 became an instant classic. You literally could not escape the track whether you were at a night club, with friends at a house party or hearing it on radio. 'Do You Mind' was reincarnated in 2016 when Drake sampled the track for his own version 'One Dance'; ultimately changing her life overnight. The track was No. 1 in 92 countries on iTunes as well as No. 1 across Spotify globally setting the record of most streamed song of all time. In the UK it was the longest running No. 1 single in 22 years (15 weeks) with an impressive 2.3 million sales to date. The track also holds the record of best-performing single worldwide for 2016 as well as one of the best-selling singles of all-time.
Drake went on to thank Kyla during his American Music Award's acceptance speech, this led to her being personally invited to perform the track alongside him across his UK tour.
Follow Kyla here
Twitter www.twitter.com/Kylaofficial
Facebook www.facebook.com/kylaofficial
Instagram www.instagram.com/kylaofficial
Track listing:
1. You Ain't Mine ft. Popcaan (Zac Samuel Remix)
2. You Ain't Mine ft. Popcaan (Zac Samuel Extended Mix)
3. You Ain't Mine ft. Popcaan (Zac Samuel Instrumental)