Calling (ft. Kojo Funds & Chip)
Release date: 06/10/2017 Label: Parlophone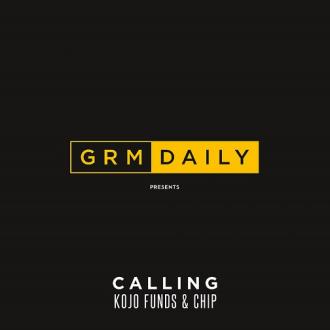 GRM DAILY
PRESENTS
"CALLING" FT. KOJO FUNDS & CHIP
THE FIRST RELEASE UNDER A NEW DEAL BETWEEN GRM DAILY AND PARLOPHONE RECORDS
GRM Daily presents 'Calling', a new track with Kojo Funds and Chip with production courtesy of GA. The release is the first under a new deal between GRM Daily, the influential hub of UK urban entertainment, and the forward-thinking record label Parlophone Records.
A future hit from the UK urban scene, 'Calling' is both anthemic and uncompromising as it sizzles with a summer vibe as autumn draws in. That attitude is encapsulated by Kojo Funds' gruff-yet-melodic vocal delivery which heightens the track's rhythmic drive, while Chip's rhymes add exuberant energy to the upbeat production.
'Calling' has been launched with an accompanying visual which sees the two London artists enjoying sun-kissed party scenes on the Croatian coast.
GRM Daily will curate all of the music that's released under this new deal – the first of its kind that Parlophone are involved in. Parlophone will support GRM Daily's growth as a lifestyle brand which has included major events including the Rated Awards and the Adidas Originals x GRM Daily workshop and events.
GRM Daily was formed in 2009 and has charted grime's rise from a largely underground phenomenon to its current status as the nation's biggest youth culture movement. Along the way, they've championed artists including Stormzy, Tinie Tempah, Skepta, Bugzy Malone, Giggs, Wretch 32 and many more. GRM Daily's loyal following includes a combined audience of 1.3 million across social media.
"We're always bringing fans the biggest in music videos, but now I'm really excited to be pushing GRM Daily into a brand new place," says GRM Daily CEO and co-founder Koby 'Posty' Hagan. "I'm proud to announce our first ever official single – 'Calling' with Kojo Funds and Chip - is out now. Both heavy hitters bring their own unique touches to the joint and I'm gassed to get it jumping."
https://open.spotify.com/artist/4PCeJ2EIn3YtzYYRsHHWyy
https://www.facebook.com/GRMDaily/
https://www.youtube.com/c/GRMDAILY
https://soundcloud.com/grmdaily
Track listing:
1. Calling (ft. Kojo Funds & Chip) [Explicit]
2. Calling (ft. Kojo Funds & Chip) [Clean]