All Or Nothing
Release date: 25/09/2017 Label: AMSLiCE RECORDS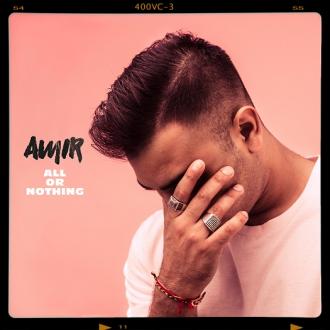 AMiR
"ALL OR NOTHING"
NEW SINGLE AVAILABLE NOW

FEATURES REMIXES FROM: STEVE SMART / MARC BAIGENT & ELEMENT Z / GUE?? WHO / A-LISTER

London-based singer songwriter, AMiR returns with his latest offering 'All Or Nothing'. Drawing inspiration from the likes of Michael Jackson and Bruno Mars, Amir has brought an electric pop injection to his soulful tones with 'All Or Nothing'. Showing his second-to-none vocal range, Amir pulls out all the stops with the irresistibly infectious riffs and melodies, and the charming lyrics throughout ensure that 'All Or Nothing' is an instant hit.

Appearing on stage at the staggering age of just two-and-a-half-years old, AMiR has dedicated his life to his passion for music. A self-taught, multi-instrumentalist, AMiR's expertise ranges from piano to percussion, which translate into his impeccable song writing abilities. Working with Grammy winning producers in the United States and Europe, including Peter and Daniel (Matoma, Galantis, DFA) and Patrick Patrikios (Little Mix), has ensured that his catalogue of music is of the finest quality. Honing in on his musical skills over the years, including his unparalleled vocal abilities, AMiR dreamed of becoming a world-renowned singer and songwriter, and with stunning releases such as 'All or Nothing' and 'Drench Me With Your Lust' under his belt, it's apparent that he is very much on that trajectory.

Remixes come here c/o STEVE SMART / GUE?? WHO / A-LISTER / MARC BAIGENT & ELEMENT Z.

"All Or Nothing" is available now.
Spotify - https://open.spotify.com/album/6WvwIe3B3lwWpwNpJbVTBN
ITunes : https://itunes.apple.com/gb/album/all-or-nothing-single/id1286708952

https://www.facebook.com/amirofficialuk/

https://twitter.com/amirofficialuk
https://www.youtube.com/amirofficialuk
Track listing:
1. All Or Nothing
2. All Or Nothing (Steve Smart Remix)
3. All Or Nothing (Marc Baigent & Element Z UKG Remix)
4. All Or Nothing (Gue?? Who Remix)
5. All Or Nothing (A-Lister Remix)