Bound 2 See
Release date: TBC Label: Real Vibez Only Inc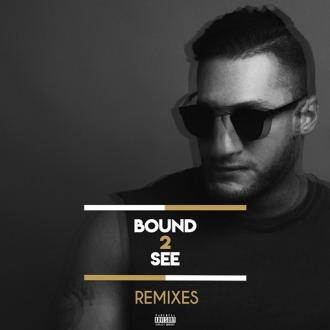 DOT
"BOUND 2 SEE"

* ORIGINAL MIX + REMIXES FROM FOOR & MIKE DELINQUENT *
In a music world built upon viral success, there's a sizeable dearth in meaningfully cultivated talent from the ground up. It's a problem that producer and progressive hip-hop artist Dot knows all too well, as the Queens native steps away from the pack with his finely tuned skills. With the debut of his seven-track EP titled Start The Hate, Dot is prepared to expose the industry ills while proving that true talent prevails through a sound that's never been experienced within hip-hop and pop music.

If you asked Dot a decade ago where he would be at this moment, chances are it would be on ice. The artist's beginnings as a hockey player brought him to various corners of North America, including Toronto and Boston, until a shoulder injury brought his sport to a screeching halt. Dot always dabbled in beatmaking, though it wasn't the trajectory he initially had in mind. A trip to the set of the Notorious B.I.G. biopic Notorious while on hockey leave proved to be fortuitous - as Dot slipped his beats to the Violator Managment team on set and was met with warm praise. "That allowed me to take my craft much more seriously when I wasn't even thinking of doing it at the time," Dot explains. His moniker is derived from an old hockey nickname at 14, where he was known for getting right to the point when it came to winning. And following the boost of confidence on his beats, Dot continued living up to the name. He began selling beats to artists like Tony Yayo and Jim Jones, the latter being a huge inspiration. "I used to listen to listen to Dipset before hockey hames," he says fondly.

From there, Dot began moving through the music industry in a number of roles. Whether it was road management for DJ Whoo Kid or working with The Blueprint Group under the tutelage of industry big wigs like Jean Nelson and Gee Roberson, Dot collected experiences that would last a lifetime. Working on projects for G-Eazy and Nicki Minaj introduced him to the art of commercial appeal, yet he tempered it with producing for real street rappers. His own rapping came organically, through prior to even picking up a microphone he consulted his mentor - the legendary Chuck D of Public Enemy - who urged Dot to give it a shot. None of this was luck, nor was it by chance. "I just found myself at the right places at the right time," Dot says, "never taking no for an answer, just pushing and pushing." What he found was that by taking his knack for creating hip-hop beats and understanding the pop-drived musical landscape, he could craft a sound both progressive in its nature while remaining true to real music. Dot isn't out to set trends; he's out to set standards.

His debut EP Start The Hate addresses that journey from start to finish. The first release off his Real Vibez imprint, Start The Hate brings both Dot's beats and rhymes to the forefront. Having witnessed a lot in the music industry, Dot describes his EP as "anti-establishment from within the establishment."

"If you can't relate to what's going on in music right now, then this is the project for you," he says.

The first single "Popular" was inspired by Jay Z's sampling of the Broadway musical Annie for "Hard Knock Life," where Dot wanted to bring a new Broadway sampling - this time from Wicked. "It's a fun-loving song that's playful with its wordplay," Dot explains. "Plus you could play it at an eight-year-old's party or a 40-year-old's party." The second single "Make You Famous" features Dipset's own Jim Jones and Juelz Santana for the street accompaniment to what Dot calls the present culture of "Molly Music."

"We're pairing the Molly Music generation with the grind of the street," he adds. "Bringing together the streets and the suburbs so everybody could listen to the same track." His progressive hip-hop is inclusive, making it universal for anyone looking for a fresh change in music.

Other singles like "You Need It, I Got It" with G-Unit's Uncle Murda place Dot as the plug, for anything you need - be it drugs, a good party or good music. Other tracks like "Wounds & Cuts" delve into the tumultuous nature of relationships. "It's about everyday life," Dot says of the project.

After running the gamut of industry roles from creator to businessman, Dot has a few things to get off his chest with Start The Hate. The lack of message music combined with what he calls "controled content" has inevitably left a void in substance that he hopes to fill, "I would like to be that voice that stands out from the rest of the crowd," Dot says of his mission, "which to me is like a bad talent show."
Track listing:
1. Bound 2 See (FooR Remix)
2. Bound 2 See (Mike Delinquent Remix)
3. Bound 2 See (Mike Delinquent Dub)
4. Bound 2 See (Radio Mix - Clean)
5. Bound 2 See (Radio Mix - Explicit)