Wild Thoughts (REMIXES)
Release date: TBC Label: Black Butter / We The Best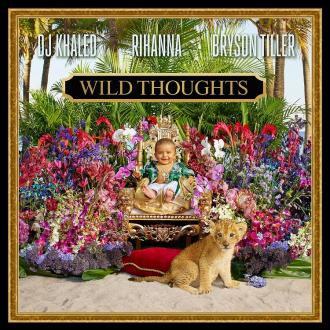 DJ KHALED LAUNCHES BRAND NEW SINGLE '​WILD THOUGHTS​' FT. RIHANNA AND BRYSON TILLER
* REMIXES *

Fresh from the recent announcement of his highly anticipated tenth studio album, 'Grateful'​, GRAMMY® nominated, multi-platinum artist and producer, DJ Khaled releases his new single 'Wild Thoughts' ft. music heavyweight, Rihanna and rising R&B hitmaker Bryson Tiller on vocals.

The utterly infectious track is the fourth single to be lifted from Grateful', after an incredible run of smash hits including Khaled's biggest song to date, 'I'm the One' [feat. Justin Bieber, Quavo, Chance The Rapper, & Lil Wayne]. It debuted #1 on the Official Singles Chart, earning DJ Khaled his first #1 single in the UK (as well as in the US, Australia and New Zealand) and has remained in the Top 2 for 5 consecutive weeks.

The king of social media continues to drive conversations and excitement worldwide. After posting 'Gratefuls' cover artwork on his social media, he trended across the globe. The photo features Khaled's seventh-month-old son and album executive producer Asahd relaxing in a hot tub.

DJ Khaled and Asahd have effectively taken over 2017 and set the pace for the culture to follow.

'GRATEFUL' TRACKLISTING:
1. (Intro) I'm So Grateful - Ft. Sizzla
2. Shining - Ft. Beyonce & Jay Z
3. To The Max - Ft. Drake
4. Wild Thoughts - Ft. Rihanna & Bryson Tiller
5. I'm The One - Ft. Justin Bieber, Quavo, Chance The Rapper & Lil Wayne
6. On Everything - Ft. Travis Scott, Rick Ross & Big Sean
7. It's Secured - Ft. Nas & Travis Scott
8. Interlude (Hallelujah) - Betty Wright
9. Nobody - Ft. Alicia Keys & Nicki Minaj
10. I Love You So Much - Ft. Chance The Rapper
11. Don't Quit - Dj Khaled & Calvin Harris Ft. Travis Scott & Jeremih
12. I Can't Even Lie - Ft. Future & Nicki Minaj
13. Down For Life - Ft Partynextdoor, Future, Travis Scott, Rick Ross & Kodak Black
14. Major Bag Alert - Ft. Migos
15. Good Man - Ft. Pusha T & Jadakiss
16. Billy Ocean - Ft. Fat Joe & Raekwon
17. Pull A Caper - Ft. Kodak Black, Gucci Mane & Rick Ross
18. That Range Rover Came With Steps - Ft. Future & Yo Gotti
19. Iced Out My Arms - Ft. Future, Migos, 21 Savage & T.I.
20. Whatever - Ft. Future, Young Thug, Rick Ross 2 Chainz
21. Interlude - Belly
22. Unchanging Love - Mavado
23. Asahd Talk (Thank You Ashad)

'Grateful':
iTunes: http://smarturl.it/Grateful_iT
Amazon: http://smarturl.it/Grateful_Amazon

'Wild Thoughts':
Official Video: http://smarturl.it/WT_Video
Download: http://smarturl.it/Grateful_dl
Spotify: http://smarturl.it/WildThoughts_Sp

Follow DJ Khaled:
Instagram: https://www.instagram.com/djkhaled
Twitter: https://twitter.com/djkhaled
VEVO: http://www.vevo.com/artist/dj-khaled
Facebook: https://www.facebook.com/officialdjkhaled/
Snapchat: DJKhaled305

Follow Asahd:
Instagram: https://www.instagram.com/asahdkhaled
Twitter: https://twitter.com/asahdkhaled
Track listing:
1. Wild Thoughts (Bee's Knees Remix Clean Edit)
2. Wild Thoughts (NOTD Dance Remix Clean Edit)
3. Wild Thoughts (Medasin Dance Remix Clean Edit)