The Beat Don't Feel The Same ft. Boy Matthews
Release date: 21/07/2017 Label: 3Beat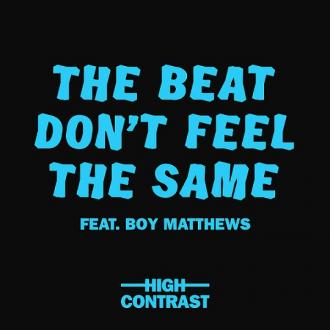 HIGH CONTRAST
'THE BEAT DON'T FEEL THE SAME' (FEAT. BOY MATTHEWS)
3 BEAT
RELEASED 21 JULY

High Contrast's 'The Beat Don't Feel The Same' (feat. Boy Matthews) is the new single from his forthcoming 6th studio album, 'Night Gallery', a milestone release from one of the UK's finest electronic music artists. 'The Beat Don't Feel The Same' sees High Contrast (aka Lincoln Barrett) wearing his love for French house on his sleeve, a genre he's referenced on previous albums, and one of his biggest musical influences.
The last year has seen High Contrast hit new heights, Lincoln's last 3 consecutive tracks, 'Questions', 'Remind Me', and 'Shotgun Mouthwash', have all hit daytime radio playlists, and with two sell-out live performances at Brixton Academy and Electric Brixton under his belt, major festival shows this summer include Reading & Leeds, Creamfields, SW4, and NASS.
Amongst the radio anthems, 'Night Gallery's' tracklist shows each musical side of High Contrast - from the Northern Soul-influenced jungle of 'Love On A 45', electronic indie like 'Come Together' (feat. Callum Beattie), rave-ready rock dance hybrids in the shape of 'I'll Get High' and 'Tobacco Road' and future drum & bass anthems such as 'Don't You Go Out Of My Mind', through to the kind of epic soundscapes favoured by M83 and Moby with 'Save Somebody', 'Ambient Recovery', and the stunning 'The Warning'.
'Shotgun Mouthwash', on which Barrett performed vocals, lead and bass guitar, keys, and drums, featured on the soundtrack for 'T2:Trainspotting' (video premiered by Pitchfork). This marked the second time he'd worked with director Danny Boyle, the first being when he, Underworld and Boyle programmed the music for the athletes opening parade at the 2012 London Olympics – a "surreal experience" that saw him reach an audience of over 1 billion people. He was more recently chosen by Underworld to produce their latest Grammy-nominated album 'Barbara, Barbara, We Have A Shining Future'.
His musical philosophy of 'contrasts' has been a staple of High Contrast's recording career, and 'Night Gallery' is him "finally letting go of being tied to one genre or sound". As someone who started in a teen hardcore band before becoming one of the most respected DJ/producers of his generation (while maintaining the straight edge/teetotal lifestyle), Lincoln has constantly experimented, and his obsessions with Northern Soul and film soundtracks (he's a former film student) match his love for dubplate culture – often uniting these interests with his music. The sought after nature of some High Contrast studio 'magic' has also seen him become one of dance music's elite remixers, achieving acclaim for reworks of Adele (with 'Hometown Glory' and 'Hello'), White Stripes, Kanye West, and London Grammar.
More info via: www.highcontrastlondon.com
Facebook: www.facebook.com/highcontrastuk
Instagram: https://www.instagram.com/linkcontrast
Twitter: www.twitter.com/highcontrast
Track listing:
1. The Beat Don't Feel The Same ft. Boy Matthews
2. The Beat Don't Feel The Same ft. Boy Matthews (Original)