Never Been Loved
Release date: TBC Label: 141a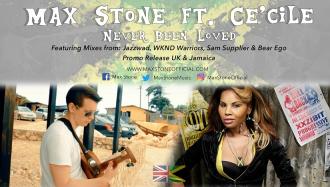 Max Stone And Ce'Cile Collaborate On "Never Been Loved"

* Original / Jazzwad / Wknd Warriors / Goody Mixes *
Unlike many X Factor finalist Max Stone's journey after appearing on the show has resulted in him fulfilling his dream, making music that he loves. For those who don't remember whilst most contestants stuck to the script he insisted on covering two of Bob Marley's greatest hits, "No Woman Nuh Cry" and "Turn Your Lights Down Low". You could say it was a strange choice for a boy that grew up in Devon and then moved to Stockholm to attend a well -heeled school before returning to England to settle in London and pursue his music career.
After XFactor Max headed straight for the studio to record his first album which was always going to be influenced by his love of reggae. Not just a passing fad because what most people didn't know was that Max was the only unsigned artist to appear at, 'A Night of Reggae', for Save the Children alongside Jimmy Cliff, Ali Campbell, Ernest Ranglin, Sly and Robbie, Suggs and Dawn Penn. On the night Max did a duet with Maxi Priest which was a reggae version of A Change is Going to Come which stole the show and lead to Maxi Priest saying Max Stone's voice 'blew his mind'.
In 2016 Max was invited over to Jamaica to work with Grammy award winning reggae producer Jazzwad. Inspired by the music, food and sun and having met many of his icons such as Damian Marley, Jesse Royal, Cronixx, King Jammy and Sly Dunbar Max couldn't resist adding to his album. Arriving back in England, Max teamed up with producer D Goody. Max has always been a fan of Ce'Cile and this resulted in him making the necessary contact to see if she would feature on one of his tracks. Within a week a cross Atlantic co-lab ended in Ce'Cile recording the song adding her own Middle 8 for Max's first promo release, "Never Been Loved" produced by D Goody with remixes from Jazzwad, Wknd Warriors. Further mixes from Sam Supplier and Bear Ego are to follow.
Max Stone has now finished his album Keep Rising which is a powerful statement which examines Love and War and all things in between.
https://twitter.com/MaxStoneMusic
https://soundcloud.com/max-stone-official

Track listing:
1. Never Been Loved
2. Never Been Loved (Jazzwad Remix)
3. Never Been Loved (Wknd Warriors Remix)
4. Never Been Loved (Goody Remix)