Loved Up (K Warren House Remix)
Release date: TBC Label: Kojosound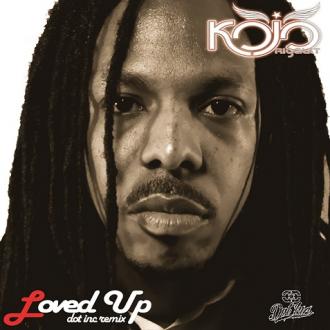 KOJO RIGAULT
"LOVED UP"
NEW SINGLE
* K WARREN HOUSE REMIX *


WATCH THE LYRIC VIDEO:
Born in Trinidad, Kojo Rigault, aka Kojosound, started his singing career with childhood friends he grew up with in his hometown, St Anns. They formed boy band New Creation and went on to appear on Trinidadian TV talent show Party Time. The band became an overnight sensation with its acapella versions of Boys II Men classics like End Of The Road and So Hard To Say Goodbye.

Eventually the group started writing their own music, and Kojo penned their first single Roll It. The track caught the attention of Eddy Grant. and recorded their first album at Eddy Grant's Blue Wave Studios in Barbados

They signed to Tattoo Records, and recorded their album Spirits of Gold and became opening acts for Ant and Dec's UK tour, coinciding with the duo's final album, The Cult of Ant and Dec.

Their single reached number 4 in the European music video charts and broke into the UK Top 40, winning a best Caribbean R&B group award and scoring a place in Trinidad and Tobago's history as one of the countries best known pop groups to have toured and receive international recognition in music.

Kojo moved to London and focused on working his way up in the record industry, first as an A&R scout, working for Craig David's producer Mark Hill and his Stoosh Records imprint.

Purely by accident, Kojo was convinced to start singing again after an old demo recording of his landed in the hands of Dee Leng, Head of A&R at Jetstar. Leng encouraged Kojo to start writing again and introduced him to reggae producers to create his new sound - a brilliant mix of R&B, reggae and soca music.

Kojo's collaboration with hit songwriter -Winston Sela (Maxi Priest, Aswad, Barrington Levy, Sean Paul, Bounty Killer, Shabba Ranks) and remixers Dot INC (Shakira/ Sean Paul/David Guetta) who's remix of his current single 'LOVED UP' has resulted in of one his best R&B/reggae tracks to date, and is the first single from his forthcoming album.

Kojo is now using his talent, experience and contacts to move on to the next phase of making hit records and touring.
Track listing:
1. Loved Up (K Warren House Remix)