We Are Stars (Star.One Remix)
Release date: 12/05/2017 Label: 3Beat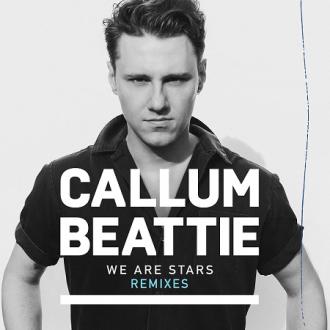 Edinburgh born and raised singer-songwriter Callum Beattie unveils his debut EP'We Are Stars', available now through 3 Beat / Universal Music

* Star.One Remix *
Callum's emotive, cracked vocal takes centre stage throughout and heralds the arrival of an unmistakeable new talent who's sure to dominate airwaves over the summer. Eponymous lead single 'We Are Stars' is testament to Callum's ability to weave together emotionally involved, uplifting odes, combining a rich and textured production with a hook laden chorus. It is also a bold and ambitious opening salvo from the Edinburgh-born (now London-based) singer songwriter, shirking the usual 'soft' introductions and instead jumping straight in with a song that's big, ambitious in scope and aimed straight at the heart. The accompanying video, shot in his native Scotland, is a perfect first sight of Callum and his emotionally raw, honest world.
The 'We Are Stars' EP is produced by revered producer Ken Nelson, who produced Coldplay's Parachutes and X&Y and acclaimed works by the likes of Paolo Nutini, Badly Drawn Boy and The Charlatans. Nelson's ear for melodic, guitar-driven songwriting was a natural fit with Beattie's songwriting and he immediately saw the potential when he was played rough demos by Beattie's Liverpool based 3 Beat label. Nelson and Beattie subsequently debunked to Wales' Monnow Valley studios to lay down the 'We Are Stars'EP (March 31st, 3 Beat / Universal).
The rich, vivid imagery Callum weaves into his songs could well be attributed to the synaesthesia that (literally) colours his writing. Synesthesia is a rare condition he's long had that means he 'sees' music and sounds as colours and shapes, but, like most of the great creative mind who have it, he struggles to explain it. But certainly he sees it as more creative blessing than curse.
"We Are Stars feels yellow to me. But I try to avoid red, if I was writing a song and it started to look a bit red, I'd probably stop writing it. I don't know why. It could be as simple as red being a sign of danger."
Beattie spent his formative years learning his craft playing any gig he could blag in the none-too-salubrious pubs of Edinburgh. Having come up the long way, Callum Beattie launches into the public consciousness ready formed with a formidable array of brutally honest songs that are sometimes euphoric, sometimes reflective but always packed to the brim with arena sized hooks. We Are Stars heralds the arrival of a unique talent, and marks Beattie out as one of the names to watch in 2017.
Facebook: www.facebook.com/callumbeattieofficial
Twitter: https://twitter.com/callumbeattieuk
Instagram www.instagram.com/callumbeattieofficial
Track listing:
1. We Are Stars (Star.One Remix)
2. We Are Stars (Star.One Edit)
3. We Are Stars (Star.One Instrumental Remix)