Chariot feat. Charly Black & Stylo G (Young Fuego Remix)
Release date: TBC Label: Island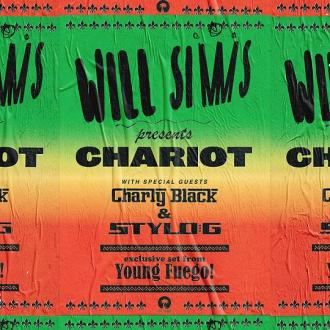 Will Simms
Chariot feat. Charly Black & Stylo G (Young Fuego Remix)

* RADIO EMBARGO - FOR CLUB PLAY ONLY! *

Already off to an explosive start with over a million streams since launching at the end of last year, Will Simms has unveiled a new version of his bass-heavy underground hit, the explosive 'Chariot (feat. Stylo G). Previously stepping out from behind the scenes - having written and produced for the likes of WSTRN, Aloe Blacc, Lil Jon and Krishane to name a few - to offer his debut track, Will Simms now launches the Young Fuego remix of 'Chariot'. The track gets an addictive refresh in time for the start of the summer and also sees dancehall icon Charly Black recruited to join fellow reggae don Stylo G on the future dancefloor smash.

With over 200 million streams on Spotify, and over 100 million alone for his internationally known track 'Gyal You A Party Animal', Charly Black joins Stylo G - known for the instantly recognisable dancefloor smashes 'My Yout', 'Call Mi a Leader' and 'Soundbwoy' - as they sit on top of the energetic beat to take you on a ride in their pumping custom 'Chariot', delivering the powerful and electric refrains with the flow and attitude that only they can.

Unleashing a sound made for the biggest sound systems this summer, everywhere from the 'Chariot' to the club, Will Simms is making sure he is hitting the scene with a bang!
Track listing:
1. Chariot (Young Fuego Remix) RADIO EMBARGO - FOR CLUB PLAY ONLY!