Questions
Release date: 16/03/2017 Digital release date: 16/03/2017 Label: 3Beat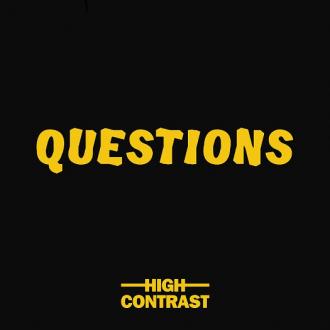 HIGH CONTRAST
'QUESTIONS EP'
3 BEAT
AVAILABLE 16TH MARCH
https://highcontrast.lnk.to/questions
'QUESTIONS' RADIO 1 HOTTEST RECORD IN THE WORLD!
Fresh from having his track 'Shotgun Mouthwash' featured on the soundtrack for 'T2:Trainspotting' (with the video recently premiered by Pitchfork), High Contrast has revealed his 'Questions EP'.
On air and on sale from 16th March via 3 Beat, the 5 track 'Questions EP' features lead track 'Questions', alongside two other new High Contrast productions, 'Don't Go In The House' and 'Dehydrated Funk', plus High Contrast's long-awaited remake of Underworld's classic, 'Rez', and Armand van Helden's disco-heavy remix of 'Questions'.
Chosen by Underworld to produce their recent Grammy-nominated album 'Barbara, Barbara, We Have A Shining Future', High Contrast aka Lincoln Barrett is one of the most respected electronic music artists in the game. Over the course of 5 previous studio albums his sound and vision has continued to evolve. Though most well-known as a leading figure within drum & bass, an eagerness to explore different genres has seen him incorporate rock, Northern Soul, film soundtracks (Lincoln is a former film student and film obsessive), hip hop and beyond, into his music. The aforementioned'Shotgun Mouthwash' takes its cues from bluesy rock and roll and features High Contrast on vocals, lead and bass guitar, keys, and drums.
Lincoln's role in the in the soundtrack for 'T2: Trainspotting' marks the second time he's worked with director Danny Boyle. His involvement with Underworld on a collaboration for their 2010 album, 'Barking', led to Barrett, alongside the duo and Boyle, programming the music for the athletes opening parade at the 2012 London Olympics – a "surreal experience" that saw him reach an audience of over 1 billion people. Other recent collaborations include Dizzee Rascal and DJ Fresh.
The sought after nature of some High Contrast 'magic' has also seen him become one of dance music's elite remixers, achieving acclaim for reworks ofAdele (with 'Hometown Glory' and 'Hello'), White Stripes, Kanye West, and London Grammar.
The last remaining tickets are now on sale for High Contrast's debut headline live show 'High Contrast Live' at Electric Brixton on Saturday 18th March. The gig will feature new material from his forthcoming album, alongside classic productions in a state of the art production set-up. More info via: www.highcontrastlondon.com
Facebook: www.facebook.com/highcontrastuk
Instagram: https://www.instagram.com/linkcontrast
Twitter: www.twitter.com/highcontrast
Track listing:
1. Questions (Extended Mix)
2. Questions
3. Questions (Instrumental)
4. Questions (Armand Van Helden Remix)
5. Questions (Armand Van Helden Club Edit)