Kane (DJ Q / Bassboy Remixes)
Release date: TBC Label: Mike Skinner/Meno Records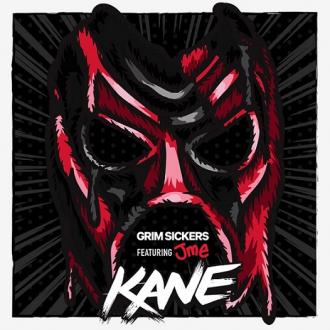 GRIM SICKERS DROPS VISUAL FOR NEW VERSION OF 'KANE' FEATURING JME

DIRECTED BY MIKE SKINNER

WATCH: https://youtu.be/QiFHmhXqlUw

AVAILABLE TO PURCHASE ON DSP'S

* DJ Q / BASSBOY REMIXES *
Newly signed to Mike Skinner/Meno Records, Grim Sickers drops his hot new visual for 'Kane' Ft JME. The latest version of the track was premiered across the airways courtesy of Mista Jam, and online exclusively via The FADER. Watch here: https://youtu.be/QiFHmhXqlUw
'The track came about from me mc'ing the Kane and Rhonda bars on grime sets early 2016, the reaction was amazing. I then sent Swifta the vocal and he came back with a masterpiece. Mike Skinner picked it up through Despa Robinson and pushed it through his set and JME got on the remix through Twitter. We eventually shot a video. It was a dream come true' recalls Grim Sickers.
Mike Skinner explains 'I first heard KANE when Grims' manager played it to me. I played it out at a festival that afternoon and everyone on stage turned around and made a funny face at me. I knew then that I'd been given an open goal with no one around to tackle me. The rest has been history in the making. Grim and Swifta is a no brainer. Grim is a real student of the game, he literally knows everything about grime. it's very rare.'

Born in Swindon and brought up in Bristol with a half-Indian and half Jamaican heritage, Grim Sickers is quickly becoming recognised as one of the most unconventional and distinctive voices in Grime. , he burst on to the scene in 2013 with his unique and original style in one of the series' most entertaining clashes on Lord of The Mics V.
Making the transition from pirate radio to live shows, Grim Sickers quickly became known for his electrifying live performances, lighting up stages across the country with his inimitable energy and enthusiasm. Whilst also appearing on tracks and sets with other up and coming MCs, he's also recognised going bar-for-bar with grime legends such as Ghetts, Jammer and Discarda.
Grim Sickers has also carved out a reputation for writing memorable hooks and rhyme sequences, peppered with pop culture references, a dark sense of humour and incredible detail. His biggest success so far has been "Kane", the Swifta-Beater-produced single released on the label of Birmingham creative Despa Robinson and legendary The Streets frontman Mike Skinner.
Whether it's on air at 1Xtra, Rinse FM or Radar Radio, onstage at festivals, raves in the UK or as far-flung as the Czech Republic, you can expect to see plenty of Grim Sickers in the future, dressed head-to-toe in black with a mic in his hand, delivering bar after bar with the swagger and presence of a WWE superstar cutting the promo of his life.
Track listing:
1. Kane (DJ Q Remix)
2. Kane (Bassboy Remix)