Now & Later
Release date: TBC Label: Atlantic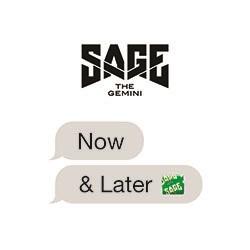 ATLANTIC WELCOMES SAGE THE GEMINI
ACCLAIMED BAY AREA RAPPER PARTNERS WITH ATLANTIC RECORDS
NEW TRACK, "NOW AND LATER," BLOWING UP
RECENTLY RELEASED "DO NOT DISTURB"
"NOW AND LATER" AVAILABLE NOW AT ALL DSPS AND STREAMING SERVICES
Atlantic Records has announced Sage The Gemini as the newest member of its history-making roster. Sage's partnership includes a deal to release all solo records through his Global Gemini label. The Bay Area-based rapper is celebrating with the release of the electrifying new track, "Now and Later," produced by Axident, Gladius, Big Taste, Joe London and Ian Kirkpatrick, which premiered via The Fader and was featured on a global Snapchat filter propelling the record into Shazam charts across the world. The track is available today at all DSPs and streaming services.
"Now and Later" arrives hot on the heels of the recently released new track, "Do Not Disturb." The track has already earned praise from The Fader and http://HotNewHipHop.com, which declared it to be "an infectious, island-vibe banger," adding, "Hopefully there's more on the way." "Do Not Disturb" is streaming now at Sage The Gemini's official YouTube channel.
Sage The Gemini debuted in 2008 with the viral smash hit, "You Should Know," earning more than 3 million worldwide spins. 2013 saw the Fairfield, CA native unite with the Bay Area's influential HBK Gang collective for the self-produced 2x RIAA platinum certified hit single, "Gas Pedal (Feat. IAMSU!)." The track proved a crossover sensation, reaching the top 5 on Billboard's "Hot Rap Songs," the top 10 on "Hot R&B/Hip-Hop Songs," and #29 on the overall "Hot 100" – Sage's first-ever top 40 success. Furthermore, the "Gas Pedal" companion video was an online blockbuster, now with over 90 million individual YouTubeviews alone.
"Red Nose" followed, also produced by Sage, earning RIAA platinum, "Hot 100" chart placement, and nearly 90 million individual YouTube views. Both "Red Nose" and Gas Pedal" were then included on the "GAS PEDAL" EP, a top 30 chart success upon its 2013 release. "REMEMBER ME," Sage's acclaimed debut album, dropped the next year and immediately entered the SoundScan/Billboard 200 at #47 amidst ecstatic press coverage and critical attention.
2015 saw the arrival of "Good Thing (Feat. Nick Jonas)," once again rocking Billboard's "Hot 100" and drawing close to 17 million YouTube views. As if that weren't enough, Sage The Gemini has proven an increasingly in-demand featured artist, with appearances including Flo Rida's 3x RIAA certified platinum single, "G.D.F.R. (Feat. Sage the Gemini & Lookas)." A #1 smash on the iTunes Store's "Top Hip-Hop/Rap Songs" chart, the track – which is also included on Atlantic's worldwide #1 "FURIOUS 7 – ORIGINAL MOTION PICTURE SOUNDTRACK" – proved another huge hit for Flo Rida, reaching the top 3 on Billboard's "Hot R&B/Hip-Hop Songs" while also ranking among the top 10 in multiple countries around the world. What's more, the "G.D.F.R (Feat. Sage the Gemini & Lookas)" companion video – directed by Malcolm Jones (R. Kelly, Chris Brown) – has logged more than 250 million individual YouTube views this far.
Sage recently teamed with Fresh Empire (https://www.youtube.com/watch?v=0vGz2lE_3j8) for an exclusive four-part documentary look at his remarkable rise and multi-faceted career thus far, with a special emphasis on the rapper's alcohol and tobacco-free lifestyle. "Sage The Gemini's Come Up" is streaming now at the official Fresh Empire YouTube channel.
http://sagethegeminiofficial.com
http://twitter.com/SageTheGemini (@SageTheGemini)
http://facebook.com/SageTheGemini
http://instagram.com/sagethegemini
http://youtube.com/user/sagethegemini
http://www.atlanticrecords.com
Track listing:
1. Now & Later (Clean)
2. Now & Later (Explicit)
3. Now & Later (Instrumental)