Ways To An End
Release date: 23/08/2010 Digital release date: 23/08/2010 Label: Skint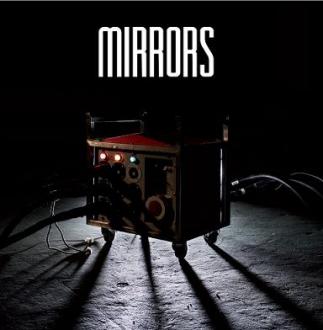 Mirrors have announced details of the release of a new single, their first for Skint Records.
Ways To An End, released on Monday August 23rd 2010, will be available on 7" and digital and features the extra track, Broken By Silence. Part kraut, part classic British synth-pop, the single features a 'subtle sample' from a former Poet Laureate. The digital package also includes an ambient work done in conjunction with film Maker Simon Pollard.
The sleeve is being designed by Jules, who put together a host of classic new wave cover including artwork for The Clash and Adam and the Ants and the band have shot a brace of videos for the track; the first was shot at the Duke of Yorks cinema in Brighton (the worlds oldest cinema) and the second, an ambient short film, reflects the band's on-stage live visuals. The short film will feature as part of the single's iTunes package.
The single, produced by the band, is taken from their debut album, which is currently being mixed by Jonathan Kreinik (DFA, The Rapture) in New York. The album will be released in early 2011.
Based in Brighton, Mirrors have also announced a number of UK tour dates during the summer. The full list of dates are as follows:
JULY
13th London Madam Jo Jos
14th Brighton New Hero
16th Middlesborough Ku Bar
17th Southampton Unit
23rd London Watershed
31st London Proud Gallery
AUGUST
2nd Glasgow King Tuts
3rd Leeds Oporto
4th Sheffield Forum
5th Leicester The Musician
7th London Little London Fields Festival
13th Birmingham Sound Bar
18th London Lexington
20th Bristol Start The Bus
21st York Basement
28th Brighton Audio
SEPTEMBER
10th London Monarch
Further information about their debut album and subsequent singles will be announced shortly.
www.myspace.com/mirrorsmirrorsmirrors
Track listing:
1. Ways To An End
2. Ways To An End - Edit
3. Broken By Silence