Hearts On Fire
Release date: 01/09/2008 Digital release date: 31/08/2008 Label: Modular / Island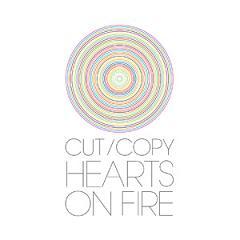 Following the release of their shimmering sophomore LP In Ghost Colours, Cut Copy have announced that 'Hearts On Fire' will be the second official single from the album. Long a fan favourite and a staple of Australian alternative radio, 'Hearts On Fire' is a future-classic sax-house anthem for the ages; an epic rush of pumping bassline, clipped disco drums and a jacking hip house break, sprinkled with a good helping of DFA magic dust in the production department.
The video, shot on location in Japan by the acclaimed Nagi Noda, is an endlessly eccentric, touching take on a classic story of the heartbroken, lovelorn lead, played by frontman Dan Whitford. Ever felt like there's a black cloud hanging over your head? Let's hope you haven't had it this bad...
Tokyo-based Nagi Noda is well-established as one of Japan's leading art directors, and one of the most in demand video and commercial directors in the world. Renowned for her uniquely quirky, surrealist style, her previous works include videos for Scissor Sisters and Tiga, the White Stripes' Coca Cola commercial, as well as an array of groundbreaking short films that have long been Youtube favorites.
'Hearts On Fire' will be released on Modular/Island on August 4th, with a sparkling package including remixes by Calvin Harris, Midnight Juggernauts, Knightlife, Holy Ghost and Aeroplane, as well as a special cover version by former Cut Copy touring bassist and serial-killer lookalike J.P. Shilo.
View the video here: http://www.youtube.com/watch?v=hN0K974SAtE
For more information on Nagi Noda:
http://www.partizan.com/partizan/musicvideos/?nagi_noda
The tracklisting is as follows:
1. Hearts on Fire (Radio)
2. Hearts on Fire (Original)
3. Calvin Harris Remix
4. Holy Ghost Remix
5. Holy Ghost Instrumental
6. Midnight Juggernauts Remix
7. Knightlife Remix
8. Joakim Remix
The band continue their year-long globe-spanning tour with the following UK summer dates (more shows TBA):
26 Jun 2008 @ GLASTONBURY FESTIVAL (Dance Village) �" Glastonbury, UK
27 Jun 2008 @ ROSE TREE JAM �" Chippenham, UK
27 Jun 2008 @ WAKESTOCK *SPECIAL DJ SET*�" Oxfordshire, UK
28 Jun 2008 @ KASBAH �" Coventry, Midlands, UK
29 Jun 2008 @ OPTIMO at The Sub Club - Glasgow, Scotland
30 Jun 2008 @ NIGHT AND DAY - Manchester, UK
02 Jul 2008 @ CONCORDE 2 - Brighton, UK
03 Jul 2008 @ NEW SLANG @ the works �" Kingston, UK
05 Jul 2008 @ WIRELESS FESTIVAL (Hyde Park) Sandisk Stage - London, UK
05 Jul 2008 @ ZOO FEST *SPECIAL DJ SET* - Kent, UK
16 Aug 2008 @ LOOP FESTIVAL �" Brighton, UK
24 Aug 2008 @ CREAMFIELDS �" Liverpool, UK
28 Aug 2008 @ LA MUSIQUE �" Derry, Northern Ireland
29 Aug 2008 @ STIFF KITTEN �" Belfast, Northern Ireland
30 Aug 2008 @ ELECTRIC PICNIC FESTIVAL - Dublin, Ireland
For more on Cut Copy go to www.myspace.com/cutcopy
Track listing:
1. Radio
2. Original
3. Calvin Harris Remix
4. Holy Ghost Remix
5. Holy Ghost Instrumental
6. Midnight Juggernauts Remix
7. Knightlife Remix
8. Joakim Remix