Molly (Borgore Suck My Tit Remix)
Release date: TBC Label: 3Beat
Remixes by:
Borgore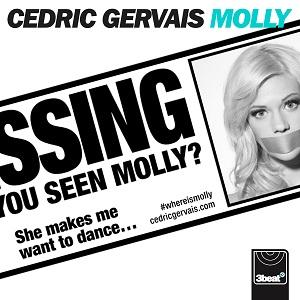 *** COOL CUTS #1 GETS SET FOR UK DOMINATION THANKS TO 3 BEAT! ***
*** EXCLUSIVE BOGORE REMIX! ***

Talk about making an impact. French DJ Cedric Gervais is responsible for one of if not THE biggest dance tracks in the world at present with the infectious 'Molly'.
Cedric had no idea his latest track would cause such a stir. It was heralded as this year's Miami Music Conference biggest record and of course Madonna asked the question to 30,000 people at the Ultra Festival, who is Molly? Since then it's been talked about by everyone from Rolling Stone to various broadsheets and gossip magazines.
The French born DJ/Producer has been based out in Miami for a number of years now and is currently making name in dance music's ever growing DJ movement state side. After the teaser video of 'Molly' was revealed, the buzz around this talented producer grew exponentially and we're not surprised. 'Molly' has been noted by BBC Radio 1's as Pete Tong's (Essential New Tune) and supported by every superstar DJ going, from Guetta to Morillo and Tiesto to Chuckie.
Its Acid heavy bass lines and infectious mid-section make 'Molly' a certified summer anthem that will have crowds going wild across the globe.
Track listing:
1. Borgore Suck My Tit Remix