I Wanna Be You
Release date: TBC Label: Universal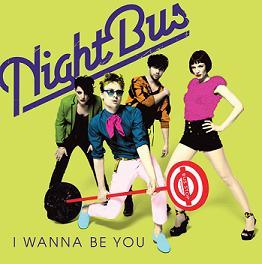 Newcomers Night Bus have concocted a sleek, sexy nocturnal anthem. A love song breathing sweet-nothings into the late-night ether.
Formed in the after-hours haunts of Hackney and channelling the spirit of Stardust's 'Music Sounds Better with You' if Blondie were playing it, Night Bus have re-skinned pop for a disco bloodbath in the new decade. With their glittering looks and glam hooks, Night Bus are the house band from Studio 54 entertaining the terrace at Space, Ibiza.
Lead by Anglophile LA-emigré Jackson Kennedy, Night Bus are in a four-way relationship with each other. Jackson met drummer Laura Conway when she was living in Hollywood, then they moved back to London together and slept in the same bed for months. Co-vocalist Hannah Melbourne is fashion-worker by day and a dazzling disco-chanteuse at night. Meanwhile they stole dark-featured heart-throb Ben Tarrant-Brown from a Camden indie band.
'You can turn me on like a drug, I feel you in my blood. We're breaking the rules just because; we can do whatever we want' runs the lyric.
'I Wanna Be You' is about infatuation and total erotic obsession. 'It's the ultimate compliment you can give someone if you really love them, as in "you're so great, I wanna be you".' says Jackson.
With a song this seductive Night Bus have an engagement with the nation's hearts and dance floors.
Track listing:
1. Radio Edit
2. Thrillers Mix
3. Grum Mix
4. Camo & Krooked
5. Goldie rocks
6. Friends Electric mix
7. P.E.S.T Remix
8. P.E.S.T Radio Edit
9. P.E.S.T Dub
10. Slofman Remix
11. Slofman Dub