I Can Feel You (Max Sanna & Steve Pitron Remix)
Release date: 27/10/2008 Digital release date: 27/10/2008 Label: Mercury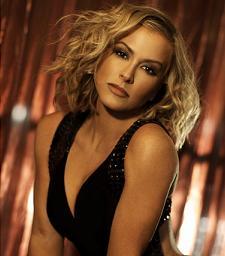 The lady with the most distinctive voice in pop music is back. Having secured a new record deal, singer songwriter and global superstar Anastacia returns this autumn with a brand new album, Heavy Rotation as well as a new look and sound.
With over 14 million album sales in Europe alone, in excess of 225 Gold, Platinum or Multi-Platinum discs, countless awards (from MTV to Marie-Claire awards), and a record-breaking chart history to her name, Anastacia is not only one of the biggest selling artists of this decade, but also one of the biggest names in todays music industry.
Anastacia has recently signed a new recording deal with Mercury Records, reuniting her with its new president David Massey (who signed Anastacia in 1999 and has collaborated with her on all her past records).
'Anastacia and I have worked together for many years and I am thrilled to have her join the Mercury/Universal family' said Massey. 'It has been incredible to witness her growth and success thus far, and we feel her best is yet to come with Heavy Rotation.
Heavy Rotation, the fourth studio album from Anastacia is due for release on October 27th 2008. Collaborators and producers on the album include: Ne-Yo (Rihanna, Leona Lewis, Beyonce, Usher), Lester Mendez (Shakira, Nelly Furtado, Jennifer Lopez), JR Rotem, (Rihanna, Snoop Dog, Sean Kingston), Guy Chambers (Robbie Williams, Kylie Minogue) and Rodney Jerkins (Mary J Blige, Pussy Cat Dolls, Britney, Beyonce, Michael Jackson). With a body of songs that are not just hits, but are empowering anthems, and a direction that has progressed and evolved without abandoning Anastacias signature sound, Heavy Rotation is set to be Anastacias most powerful and successful release to date.
'I called the album Heavy Rotation because itss a phrase that originated with DJs' Anastacia explains. 'And also for me the meaning is, life can be heavy, but it all turns around and goes into something else. It seemed to be the perfect title for where Im at in my life'
'I Can Feel You' comes with a killer floorfilling remix from one of the hottest remix teams on the block, Max Sanna & Steve Pitron (Kylie, Madcon, Sam Sparro, Taito Tikaro) and is now available to download exclusively via your Hyperactive account!
'Heavy Rotation' will be released on October 27th. 'I Can Feel You', the first single to be taken from the record, produced and co-written by Chuck Harmony and man-of-the-moment Ne-Yo, will be going to radio in select international markets on Monday 25th August, with the plan for US, Canada and the rest of the world to follow in 2009.
Track listing:
1. Sanna & Pitron Remix