Testify (Promo 1)
Release date: TBC Label: Plastique Recordings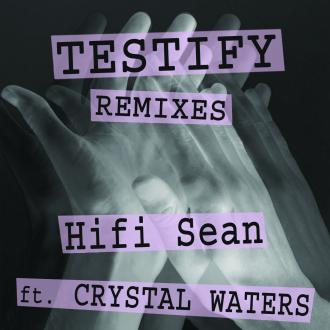 HIFI SEAN RELEASES HIS NEW SINGLE 'TESTIFY' FEATURING CRYSTAL WATERS
TAKEN FROM HIS CRITICALLY ACCLAIMED ALBUM 'FT'
Hifi Sean presents his new single, 'Testify'. The track is taken from Sean's album 'Ft.' which was released earlier this year to critical acclaim, and features guest appearances from a stellar collection of artists including Yoko Ono, Bootsy Collins, Fred Schneider (B-52's), and a poignant and mov-ing last recording from Alan Vega.
'Testify' is a northern soul, gospel piano 7" style masterpiece - including an acid Moog synth twist. It features the vocal talents of house legend Crystal Waters, who is best known for her huge interna-tional hits 'Gypsy Woman' and '100% Pure Love'
Five brand new remixes have been produced for the single release, they include Steve Mac (Rhythm Masters), Terry Farley (Boys Own), Superchumbo, Shalvoy and Le Mongrel.
Hifi Sean is a highly respected DJ and producer, having held residencies at Ministry of Sound , Shoreditch House , Savage Disco , East Bloc and many more parties in London as well as playing regular international shows in Europe and the USA.
RADIO EDITS AVAILABLE ON REQUEST
Track listing:
No track listing.