Insane Remixes
Release date: 16/01/2017 Digital release date: 16/01/2017 Label: Somn'thing Records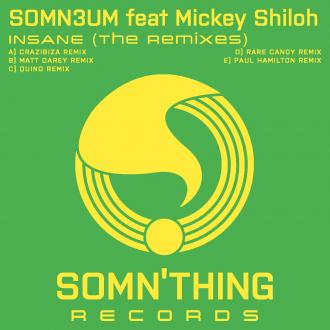 MIXES COME FROM CRAZIBIZA, MATT DAREY, QUINO, PAUL HAMILTON AND RARE CANDY
British house duo Somn3um reveal a fresh set of remixes of their biggest track to date, 'Insane'.
Remixes on the new EP come from house heavy hitters Crazibiza, Matt Darey, Dutch maestro Quino, DJ Paul Hamilton, and Somn'thing Records label mates Rare Candy
'Insane' is a deep house masterpiece, featuring vocals from regular Somn'thing Records collaborator Mickey Shiloh who has written for the likes of Britney Spears, Janet Jackson, Shontelle, LL Cool J, Pitbull, Iggy Azalea and much more.
Follow Somn3um and Somn'thing Records:
www.facebook.com/somn3um
www.facebook.com/somnthing
https://twitter.com/somn3um
https://twitter.com/somnthing
Track listing:
No track listing.