Kamaliya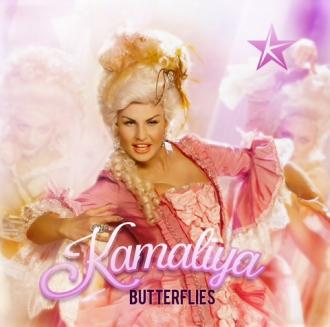 In this media-saturated age, it seems that anyone can be a pop star. That, however, doesn't qualify anyone to be a 'great' pop star.
Kamaliya is the exception to the rule – not just a singer but actress and model. As a true Ukrainian multi-talented superstar, Kamaliya has a sensational voice; is a musician who plays violin and writes her own songs.
And as for the voice, Kamaliya compares herself to a symphony of Sarah Brightman's operatic voice, Britney Spears' pop and Celine Dion's ballads.
Kamaliya believes that 'beauty might be skin deep but talent and charisma go a long way'.
A household name in the Ukraine Kamaliya has set her sights on Europe and in particular the UK. But she has already come along way!
Born Natalya Shmarenkova in a district of Eastern Siberia, Kamaliya was only three when her military father was deployed to Budapest. As a child, she was soon singing and performing. Commenting about this time Kamaliya says, "I was so excited about singing I couldn't imagine myself doing anything else".
After her family moved to Lviv in Western Ukraine, she studied the violin and learnt to sing opera. At this time she started writing her own music, resulting in her joining the Ukrainian folk group "Galytska Perlyna". Top spots in national singing competitions followed through her teenage years and she started acting and directing shows while studying at Lviv University.
At this time she had a 'National Hit Parade Song of the Year' with 'Love You' – a track to be found on her 1999 album 'Is It Love', which followed her debut album, Techno Style 1997. She then went onto record 2 further albums, 'Year Of The Queen' and 'Kamaliya, With Love ' – clearly illustrating that Kamaliya's version of pop is an interesting mutation of 'techno style' (pop-dance) with folk, power ballads and opera.
To date Kamaliya has recorded over 80 songs, and continues to reap Awards including being 'Honored Artist of Ukraine' for outstanding achievement in developing Ukrainian culture, and in 2008, she won the Mrs World contest – the only Ukraine female to ever do so.
After a handful of Russian films (including rom-com Husband Of My Widow, the tele-movie Million Up To Sky, for which she won a Best Supporting Role award, and the sci-fi drama Mantera), America called. In 2012 Kamaliya is starring in What About Love, playing the Russian wife of the US ambassador in Romania, with Sharon Stone & Andy Garcia in the cast. But Kamaliya's music is also making waves in Hollywood: she not only appears in the new thriller Officer Down (Stephen Dorff and James Woods are among the starry cast), releasing world-wide in early 2012, but "Arrythmia" is on the soundtrack. Two other big movies the astronaut Yuri Gagarin bio-pic "Gagarin" and another rom-com "Legal Affairs" are the other two Hollywood movies planned to be shot in 2012.
Back in Russia, she's finished filming a TV comedy, Fathers & Sons where she plays the lead.
Privately Kamaliya has overcome lymph node cancer (her family lived in the zone affected by the radioactive fall-out from the Chernobyl disaster). She has a great love of animals listing eight dogs, two rabbits, three cats, three parrots and five horses as her pets. And she is married to the British-Pakistani publisher Mohammad Zahoor.
And there's always the modelling assignments (her favourite designers include Jenny Packham, Hervé Léger, Karl Lagerfeld, Roberto Cavalli and the late Alexander McQueen), as well as live concerts: in the last year alone, Kamaliya has been on stage over 50 times, adding dance to the ever-growing list of talents. The combination of music and fashion has made Kamaliya a household name in the Ukraine.
She is an unabashed romantic – her all-time favorite song is Andrea Bocelli's "Time To Say Goodbye" and she loves to tackle the classics – her belting version of "We Are The Champions" would even upstage Freddie. She admits her prime influences have been La Whitney, La Celine and La Brightman, and drama will always be part of her music and her appeal. But the lady that Kamaliya wants to take on is none other than Lady Gaga. Expect emotion-drenched dance music – sassy, sensual and sophisticated in equal measure. And with her formidable achievements back home, across multiple styles of music and beyond, you wouldn't bet against Kamaliya going all the way.
In December 2011, Kamaliya burst onto the UK music scene with her debut UK single 'Crazy In My Heart'. Mixed by the UK dance duo Digital Dogs, the track peaked at number 13 in the Pop charts.
On a promotional tour of London the singer hosted a celebrity party at London's prestigious 'Pulbrook & Gould' attended by London social glitterati including veteran actor Edward Fox, 'Dancing on Ice Star' Nancy Dell'Olio, Silent Witness star Emilia Fox, Blue's Anthony Costa and X Factor star Ruth Lorenzo.
Kamaliya's second UK single 'Rising Up' was released on February 26th, 2012. The single featured mixes by UK dance ensemble Cahill and US production wizards Soulseekerz. The acclaimed video, was shot in Miami (Florida) by Paul Boyd, and featured one of the world's top models James McDonald and was filmed on a luxury villa used in CSI Miami. 'Rising Up' peaked at number 6 in the Pop charts and obtained extensive radio and video play helping to establish Kamaliya as a relevant UK dance act.
Kamaliya's love for animals caught the attention of the animal welfare charity WSPA and on February 23rd, 2012 during a promotional trip to the UK Kamaliya was asked to headline their annual fundraising party. She performed her first 3 UK singles to a high profile social crowd including HRH Princess Beatrice of York, Miranda Richardson, Zac Goldsmith MP and Tay Devlin to count a few.
During her time in the UK, she underwent a hugely successful mini nightclub tour to showcase her phenomenal voice and continue her invasion of British dance floors.
Promotion for 'Rising Up' resulted in Kamaliya appearing in the extensive national, regional and online media.
Kamaliya gave a show stopping performance at the 'Yuna Awards 2012' in the Ukraine –performing a high-energy duet with Germany's Thomas Anders. The song "No Ordinary Love' will be released in due course.
Kamaliya profile is set to catapult even further this spring when she joins STEPS on their much anticipated stadium reunion tour across the UK. She will join the 90's pop sensations on all of the tour dates bar two when she will be in South Africa to headline Mr. Gay World.
Her appearance on the STEPS tour will coincide with the launch of her 3rd single Arrhythmia – a thumbing Ibiza inspired dance anthem set to establish Kamaliya as a major dance act in her own right.
Hyperactive promoted singles:
Alive
Butterflies (Chuckie / Wideboys / Andi Durrant & Steve More / Jodie Harsh / Cutmore Mixes)
Butterflies - New Mixes
Love Me Like - Promo 1