An Interview With... 'The Voice Of Tamworth FC'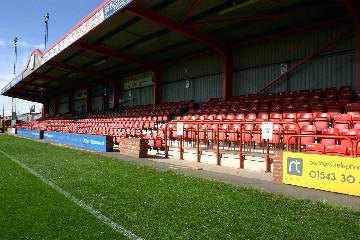 Friday 5th November 2010
Welcome to GOAL! Can you tell us briefly how you came to be the 'Voice of Tamworth?'
I've been following Tamworth for almost 35 years and done various roles at the club, so when the old announcer had to pack up I was asked to give it a go. 10 years on I'm still doing it and I must say still loving it
What has been the greatest Tamworth game to be involved in?
That's a hard one, there have been a few, but I would have to go with Stoke in the 3rd round of the FA.cup. The ground was packed, and although we lost on penalty's, for a small club like Tamworth the whole experience was one I won't forget in a long while.
What has been your proudest moment working at the club?
It has to be winning the Blue Square North title. We needed to beat Hinckley which we did 1-0 and the scenes at the end were just awesome, and being able to lead the celebrations over the mic made it even better (for me that is)
What has been the biggest blooper you've made during a matchday experience?
There has been a few. I've announced the wrong away team once and got tongue tied on players names, but the worst was vocally disagreeing with the referee (I wasn't on my own I may add) and then being told that the mic was still live.
If you could be stadium announcer at any other club, what would it be and why?
Villa Park. Aston Villa are my 2nd team so to be announcer there would be great
GOAL! Has recently launched, which projects are you supporting at Tamworth?
Nadine Coyle and Republica are the main two at the moment, although I will give Peter Andre a plug on the weekend.
A big thankyou to Tamworth FC for taking part in this interview. Every week we publish another interview with the people that are involved in matchday entertainment in stadiums across the leagues, sports and the United Kingdom. We at GOAL! want to build up a community of stadium announcers and DJ's. If you'd like to be featured in our newsletter with an interview it would be great to hear from you chris.stark@music-house.co.uk, or email me if you'd simply like to pass on any comment, opinions or questions to other stadium announcers.
Posted by Chris Stark