An Interview With 'The Voice Of St Johnstone'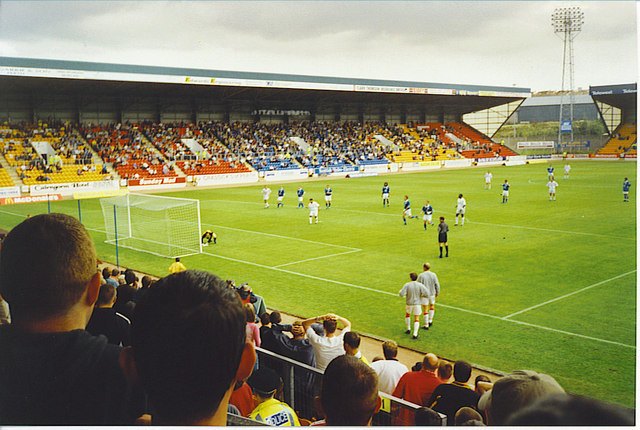 Friday 29th October 2010
Welcome to GOAL! Can you tell us briefly how you came to be the 'Voice of McDiarmid Park?'
I used to be one of the commentators for Hospital Radio Perth and was asked one day, 7 years ago, if I could stand in for the regular guy as he was not going to be able to make it. I did, and also did it again a couple of times and when he left I was offered the job and never looked back
What has been the greatest St Johnstone game to be involved in?
So many to choose from, from the 4-1 thrashing of Rangers, the 5-1 demolition of Hibernian both last season to name but two however, the best day has to be when we won promotion back from Division 1 to the SPL two seasons ago. We were playing Morton, an old rival team, and had to win to take the title. It was a glorious sunny day and the stadium was packed and with a real buzz of anticipation. Game kicked off and by the final whistle we had run out winners and the trophy was being brought out the tunnel for the presentation.I was on the pitch and folk were laughing, crying and jumping around. Truly a day to remember for the rest of my life.
What has been your proudest moment at McDiarmid Park?
Having my photo taken with the team after winning the league and being given the chance to lift the cup, makes the hairs on my neck stick up thinking about it
What has been the biggest blooper you've made during a matchday experience?
This has been well publicised. In my first full season in the job we entertained Partick Thistle in a Division 1 match. In those days we did not have an electronic numbers board and the teams were all numbered 1-20 instead of squad numbers. During the second half of the match, the Thistle manager made a substitution and the numbered boards 8 & 18 were shown. I checked the team lists and saw that Armond One (8) was coming off and being replaced by Manny Panther (18) and duly announced this without checking out the window. Howls of protest and laughter greeted this and, when I looked up, I saw why. Manny Panther was tall and black yet the player coming on was Kenny Arthur who was short and white, Thistle had switched the team numbers without telling me. As you can imagine, I have never been allowed to forget this and to this day I cringe at the memory of that afternoon.......
If you could be stadium announcer at any other club, what would it be and why?
The only other club I would love to do this for is Spurs as they were my childhood team. I do do other events such as the stage for the Cancer Research UK's Race for Life in Scotland but to get the chance to do this for Spurs would fulfil a dream

GOAL! Has recently launched, which projects are you supporting at St Johnstone?
We have only just got on board with GOAL!! in the past few weeks and unfortunately have had most of our games away from home but I will be sending in videos of the crowd and also getting some reactions from supporters to the tracks I have been playing.
A big thankyou to St Johnstone FC for taking part in this interview. Every week we publish another interview with the people that are involved in matchday entertainment in stadiums across the leagues, sports and the United Kingdom. We at GOAL! want to build up a community of stadium announcers and DJ's. If you'd like to be featured in our newsletter with an interview it would be great to hear from you chris.stark@music-house.co.uk, or email me if you'd simply like to pass on any comment, opinions or questions to other stadium announcers.
Posted by Chris Stark