I Don't Dance (Without You) ft Konshens
Release date: TBC Label: FFRR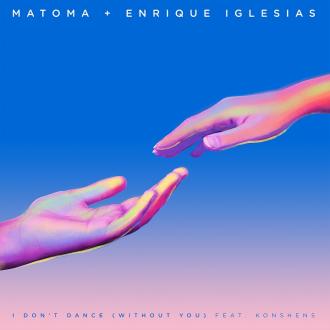 Norwegian powerhouse producer Matoma has teamed up with The King of Latin Pop, Enrique Iglesias, to drop the brand new track 'I Don't Dance (Without You)' which also features Jamaican dancehall star Konshens.
Full of the uplifting summer energy and strident melodies that have become the hallmark of Matoma's work, 'I Don't Dance (Without You)' is further infused with star quality and Latin flair courtesy of Enrique Iglesias. Konshens is also on hand to give this multi-national future hit some island flavour.
Enrique Iglesias has sold more than 150 million albums worldwide. Undeniably the biggest Latin recording artist in music history, Enrique has 31 #1 singles on the Billboard Latin Songs Chart as well as having multiple #1's across all the Billboard charts with a combined total of 105.
Matoma has been a fan of Enrique Iglesias for years. Enrique's tracks were Matoma's sound of the summer when he was younger, and the Matoma remix of 'Bailando' got a lot of love on SoundCloud and kick-started his career
When Matoma later signed a publishing deal, he was asked about his dream collaborators. His answer? "If you can get me in the studio with Enrique for an original collaboration together I would have achieved one of my bucket list goals." That ambition was finally fulfilled when Matoma was invited to Enrique's studio in Miami, where they wrote this track.
"When we created the song I remember being nervous in the studio because I was working with someone who I've admired for so long," says Matoma. "But after meeting him I'm so happy and grateful for his energy and his vision. He is unbelievably humble and a truly good man. Now after our months working together on this release I not only have the honour of collaborating with one of the most influential Latin artists of our time, but I also gained a friend. I am forever grateful for that."
'I Don't Dance (Without You)' presents a taster of what to expect from Matoma's long-awaited debut album 'One In A Million' which will be released on August 24th. Brimming with fresh collaborations, the album also features four of Matoma's biggest tracks to date: 'False Alarm' (with Becky Hill), 'Lonely' (with MAX), 'Slow' (with Noah Cyrus) and 'All Night' (with The Vamps). Those four tracks have already been streamed a staggering 525 million times at Spotify alone.
The release of 'One In A Million' is the culmination of a story that stretches back to childhood. Matoma played piano and would spend the summers mowing lawns to save up enough money to buy a computer to make his own productions. His life, however, took a detour when he was serving in the Norwegian army. He was taken ill during a winter training exercise, which resulted in him spending a couple of months recovering in hospital.
It was during his recovery that he realised he wanted to follow his passion for music. He embarked upon a degree in music production and starting uploading some bootleg remixes online for fun.
"They really took off and now this is my job," he says. "I know it doesn't always happen like that. I count myself so lucky to have this opportunity and I want to use it to spread positivity in the world and inspire others. We are all special."
In the years that followed, Matoma has achieved so much. He's accumulated over one billion streams; played sold-out show all over the world; collaborated with numerous world-class artists and songwriters; and remixed the likes of Coldplay, One Direction and Dua Lipa.
He continues: "In the past few years since I have been making music I have been so lucky to have travelled the world, worked with some incredible artists and met my amazing followers, supporters and fans. For me this is a one in a million opportunity and I say it every day – without my fans there would be no Matoma. Every single person in the crowd is special; we all have hearts, soul, passion and dreams. That is what this album is about. I have worked on this for so long and I'm beyond excited to finally start sharing it with you."
Track listing:
1. Original Mix