Shooting Stars
Release date: TBC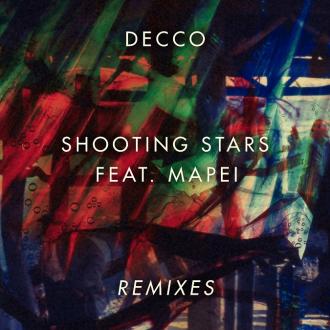 DECCO feat. Mapei – Shooting Stars
DECCO is the brainchild of prolific producers and songwriters Joacim Persson and Sebastian Arman. With a mighty list of credits under their belt (John Legend, Kelly Clarkson, Selena Gomez, Marlon Roudette, Ry X, Redman and Konshens only to name a few) they have now set out to pour their creative energy and experience into their own artist project.
Their debut single 'Shooting Stars' featuring Mapei was only just released in December and has since been steadily climbing it's way up the Spotify playlists and viral charts. It's moody, pulsing beat with Mapei's emotional vocals has also been catching some serious airplay at Sweden's biggest radio station, P3.
Only two weeks later, DECCO released their version of Alex Vargas' 'Higher Love', an emotional contemporary electronic ballad that they wrote together with Alex.
January 2017 was kicked off with an official remix for world-wide superstar Dua Lipa's new single 'Thinking 'Bout You'. Dua Lipa's flawless vocals carry over a driving bass-heavy beat culminating in an explosive Brass drop.
DECCO's genre-bending debut will feature a range of new as well as established artists on a mix of EDM, Singer-Songwriter and Pop with strong songs as the centrepiece. Currently they are travelling between their bases in Los Angeles, London, Stockholm and Vienna writing and perfecting songs for their upcoming EP, due to release in early 2017.
Track listing:
1. Oh Lou! Remix