Old School (Mixes)
Release date: TBC Label: Polydor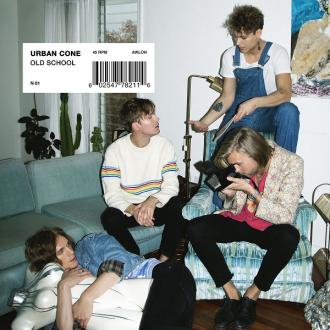 Swedish alt-pop band Urban Cone release new single, "Old School" via Polydor Records. The single, which gives fans a taste of their new sound anchored by harder beats and funky guitars.

Lyrically "Old School," calls out the lack of romance among young people in today's society, says vocalist/bassist Emil Gustafsson. "There are a lot of dating apps and it's all about hooking up as quickly as possible. We wanted to make a song that said, 'Let's do it old school, like the old days.' When you meet a girl you're interested in, call her on the phone. Ask her for a date. Give her flowers. Take her on a drive; something more than just swiping on a screen. Technology makes it so simple that it cuts out the romantic feeling of getting to know someone."

Formed in 2010 by Gustafsson, vocalist/keyboardist Rasmus Flyckt, keyboardist Jacob Sjöberg, and guitarist Tim Formgren — four high-school friends from a Stockholm suburb — Urban Cone has enjoyed substantial success in Sweden with their debut album, 2013's Our Youth, and 2015's Polaroid Memories, which was also released in the U.S. The band's sound — feel-good, indie electro-pop — has earned them praise from such tastemaker outlets as Brooklyn Vegan, VICE/Thump, Idolator, and Stereogum.

Urban Cone have collaborated with Porter Robinson, John Dahlback, and fellow Swede Tove Lo, with whom they toured Europe. They have also toured the U.S. with The Griswolds and performed with Skrillex, Fleet Foxes, Santigold, The Hives, Dashboard Confessional, The Shins, Rise Against, and others.
Track listing:
1. Zac Samuel Remix
2. Dave Aude Remix
3. Party Pupils Remix
4. Tom Swoon Remix
5. Luca Schreiner Remix