End Of Time (Promo 1)
Release date: TBC Label: Sony Music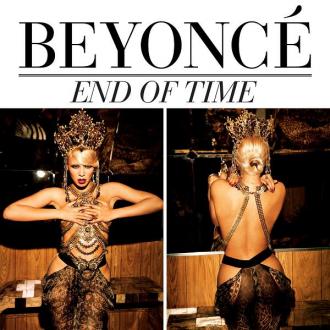 Beyonce "End Of Time"
Are you ready for the awesome new single from the one and only Beyonce!
Following hot on the heels of huge international hits "Best Thing I Never Had", "Countdown / Love On Top" and "Run The World (Girls), Beyonce and Sony Music get set to unleash the brand new single "End Of Time" - all taken from her highly acclaimed album "4".
"End Of Time" is written by Beyonce, Terius Nash, Shea Taylor and Dave Taylor and produced by The-Dream, Switch, Diplo and Beyonce herself. A stunning uptempo, feel good dance anthem, End Of Time's high energy level has been noted by music critics to have similarities to the likes of the classic Michael Jackson "Off The Wall" and has been very well received by music critics across the globe!
It has been praised as one of highlights on 4 thanks to the effective melding of its heavy beat and its lyrical content. Some also noted that boldness of Knowles on "End of Time" and praised how the beat manages to the song a catchy one.
And we couldn't agree more as this is a superb track that we know you guys are going to love! And thanks to the guys at Sony Music, we deliver you hot off the press and in time for the festive season Promo 1, which features massive mixes from The Wideboys, Manny Lehman, RedTop and the mighty WAWA giving something for everyone.
This is Beyonce at her finest and follows her massive run of 9 straight number one's in a row on the Music Week Commerical Pop Chart so please make sure you are on the case for this future NUMBER 1 EUROSOLUTION & SONY MUSIC PRIORITY!!!!
With thanks
Craig x
Track listing:
1. WAWA Remix
2. Wideboys Remix
3. Manny Lehman Vocal
4. RedTop Remix
5. Wideboys Dub
6. Manny Lehman Dub
7. WAWA Radio Edit
8. Wideboys Radio Edit
9. RedTop Radio Edit