Trombone
Release date: 25/04/2018 Label: Aspiration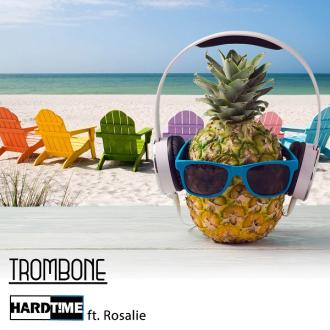 'Trombone' is the exciting new single from Hard T!me, on the Aspiration label. The record features the distinctive vocals of talented rising star, Rosalie. The record is a commercial dance track with a passionately performed vocal. The track has already had notable success, being picked up in promo phase by the likes of Gaydio and being playlisted in the USA on a number of radio stations following a successful response at WMC Miami. There is a strong remix package including a well-balanced collection of productions by Jim Mason, Dizzy Kids, Barney Alfonso and Decria & Human, all adding something different to the overall feel of the track.
Hard T!me have received support from numerous YouTube music channels in the past two years including Mr Revillz and Lithuania HQ clocking up millions of plays. The pair have been friends for twelve years and have continued to develop and perfect their sound. They have received national radio attention from BBC Radio 1, Kiss and Capital Extra as well as advertisement placements with 'Skinny Tan'. Hard T!me are continually writing new material and there will be plenty more to come over the next 12 months.
Rosalie is a singer worth keeping an eye on. She has appeared on prime-time television shows such as The Voice UK and BBC1's All Together Now. On both occasions she wowed the judges with her incredible voice.
Trombone is a big summer tune. We hope you enjoy it as much as we enjoyed making it.
Track listing:
1. Club Mix
2. Jim Mason Extended Mix
3. Barney Alfonso Extended Mix
4. Decria & Human Extended Mix
5. Dizzy Kids Remix
6. Jim Mason Radio Edit
7. Barney Alfonso Radio Edit
8. Decria & Human Radio Edit
9. Radio Edit