Get Out
Release date: TBC Label: Virgin EMI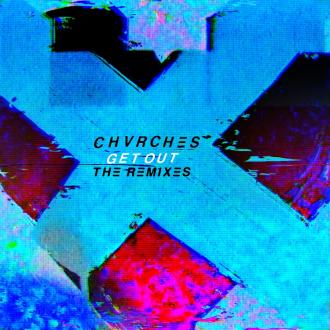 CHVRCHES are back with their first new single since releasing 2015's Every Open Eye. Called "Get Out", the track comes loaded with the sort of catchy rhythms and sparkling hooks fans have come to appreciate from Lauren Mayberry and the boys. There's a new buzzing anxiety in the synths, however, something that undoubtedly comes from the Scottish band's work with Greg Kurstin, who was recently crowned the Grammy winner for Producer of the Year.

"Working with Greg was so different to what we'd done before, but it also felt so comfortable and like he'd been in our band forever," CHVRCHES said in a press release. "He doesn't try to make you write a certain kind of song. He just listens and then Jedi puppet masters the best work out of you. The opening synth riff of 'Get Out' was the first thing to emerge on our first day in the studio with him."

"Get Out" is just the beginning of CHVRCHES' 2018. Back in December, Mayberry teased the band's forthcoming full-length to Entertainment Weekly. In addition to saying the lyrics were more "outwardly focused" than past efforts, she called the album "the most pop stuff we've done and also the most aggressive and vulnerable at the same time. It was about really leaning into those moments — and also wanting there to be a real humanity and character to what we're saying."

The band is also set to appear at a number of summer festivals — including New York's Governors Ball, Barcelona's Primavera Sound, and The Netherlands' Best Kept Secret — so keep an ear out for fresh tunes debuting in their sets.
Craig & Scott x
Track listing:
1. One Bit Remix
2. One Bit Radio Edit
3. Roosevelt Remix