Soundz Good Sampler
Release date: TBC Label: Reverb Records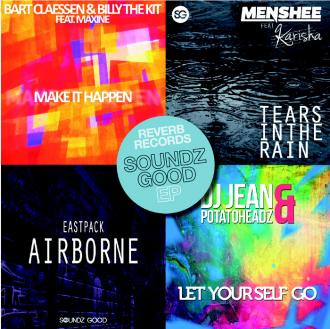 Reverb Records are making a comeback in 2018 for the labels 20th Anniversary. Teaming up with legendary Dutch label Soundz Good there will be numerous releases heading your way over the coming months. Here we have a sampler from the catalogue for you.
Plays, reviews and any support you can give will be appreciated.
Reverb Records will be partnering up with a number of global labels and brands to take it into the future so watch this space and please support, Reverb has brought us a number of hits over the years, they are a label to watch.
This is a HUGE priority for us guys so please make sure you are on the case 100%
Craig & Scott
Track listing:
1. Bart Claessen & Billy The Kit – Make It Happen (Radio Mix)
2. Bart Claessen & Billy The Kit – Make It Happen (Original Mix)
3. DJ Jean & Potatoheadz – Let Yourself Go (Original Edit)
4. DJ Jean & Potatoheadz – Let Yourself Go (Original Mix)
5. Eastpack – Airborne (Club Edit)
6. Eastpack – Airborne (Club Mix)
7. Manshe feat Karisha – Tears In The Rain (Club Edit)
8. Manshe feat Karisha – Tears In The Rain (Club Mix)