Echame La Culpa (Not On You Remix)
Release date: TBC Label: Interscope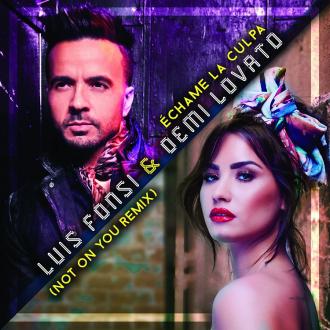 Last year saw International recording artist Luis Fonsi dominate the World's Top charts for 11 consecutive months and break records in sales, streaming and views on YouTube with "Despacito". This year Fonsi returned with his brand-new single, "Echame Le Culpa", featuring the award-winning artist, songwriter, and actress Demi Lovato. The track dominated the streaming charts, peaking at #5 on the Spotify Global Charts and racking over 400 million audio streams across Spotify and Apple. It was also a Top Five airplay hit across Europe.
Today marks the release of the English-version of "Echame La Culpa (Not On You Remix)", available across all digital platforms. The track blends Fonsi's and Lovato's powerful voices with a fusion of Caribbean rhythms and modern pop.
Fonsi said: "Recording with Demi was a wonderful experience. Musically speaking she is perfect, which made it the easiest vocal production I've ever done in my career."
The cinematic, sizzling, and sexy music video for the original single "Echame La Culpa" is fast approaching a billion views! Not surprising as it was shot by Elastic People's Creative Director Carlos Perez, the same director behind "Despacito", the most viewed video in history with more than four billion views.
For more information about Luis Fonsi:
Website: www.luisfonsi.com
Twitter: www.twitter.com/luisfonsi
Instagram: www.instagram.com/luisfonsi
Facebook: www.facebook.com/luisfonsi
Track listing:
1. Not On You Remix