We Loved Each Other (Can't You See)
Release date: TBC Label: Spincredible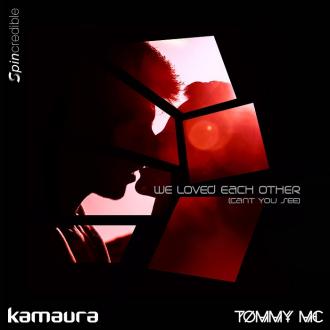 The Brainchild of Prolific DJ Lee Butler (Kamaura) & DJ/Producer Tommy Mc, "We Loved Each other" is a record you either already know about or one you won't get away from anytime soon! Covering the Classic "Sybil - The Love I Lost" (originally Harold Melvin & The Bluenotes), this fresh new take really is NEW! Taking what Lee and Tommy deemed to be the "best" hooks then cutting and chopping a brand new Chorus. Only these guys could be so bold as to flip such a well loved track in such a drastic way and yet manage to keep the key elements that made this track such a huge success in 1993!
After some time in the studio writing what is now known as "We Loved Each Other (Tommy Mc & Lee Butler Extended)" it was then taken to the rest of the Kamaura Production team to get their feedback and they LOVED IT! It was then decided to be a Collaboration Release as a follow up to "Kamaura & Tommy Mc - Taking Over Me", that which we bring you now complete with mixes from:
Kamaura, Tommy Mc, Lee Butler, Liam Keegan, Kharmatronix & A.D.S.R
This is a HUGE record and a massive priority so please push this to the max!
Craig & Scott x
Track listing:
1. Kamaura Radio Edit
2. Tommy Mc Radio Edit
3. Tommy Mc Extended Mix
4. Kamaura Extended Mix
5. Tommy Mc & Lee Bulter Extended
6. Liam Keegan Mix
7. Kharmatronix Remix
8. A.D.S.R Remix