What She's Like (Original Mix)
Release date: TBC Label: OK Recordings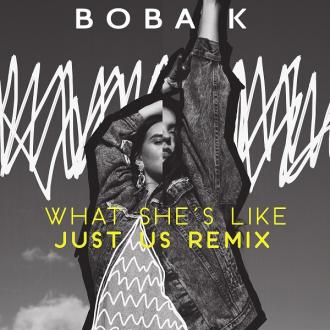 EXCLUSIVE JUST US REMIX

"What She's Like" is the debut single from brand new Ukrainian singer and songstress Boba K; a new artist armed with a voice that boasts a staggering 4 octave range and its own distinctive edge.

Remixed by US production duo Just Us, known for their Radio 1 playlisted reworking of Kate Bush's "Cloudbusting", this remix is the first new piece of music from them since Cloudbusting appeared on Pete Tong's Radio show. The track is being supported by the World's leading players in Dance Music, and their remix for Boba K is sure to garner serious attention.

Now based between Kiev and London, Boba K was born in the Ukraine, just a handful of years after the fall of the Iron Curtain; the second child of two doctors. Emotional and headstrong, by the time she was 12 yr old she had managed to get herself expelled from no less than 5 schools. Fast forward to today and Boba K is still emotional and headstrong, but now with a determination and most importantly the voice and songs to ensure she really gets her own way.

You are one of the first to receive this exclusive Just Us remix of 'What She's Like?'. Be sure to give full support.

Track listing:
1. Original