Weak (Remixes)
Release date: TBC Label: Black Butter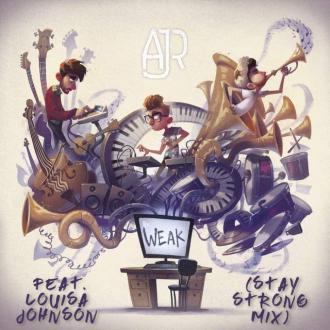 Indie pop trio ​AJR​ are quickly on the rise. The latest single to be lifted from the New Yorkers' latest EP ​'What Everyone's Thinking'​, 'Weak' is quickly becoming a viral sensation, having already reached​ #28 on Spotify's UK Chart ​and amassed a staggering ​53 million streams.
Comprised of brothers Adam, Jack and Ryan Met, AJR began their career busking in Central Park, covering the eclectic range of artists who shaped their youth and love of music, including ​Vampire Weekend, Kanye West ​and​ The Beach Boys. ​The band got their start by tweeting a link to their self-released debut single to ​Sia​, who immediately fell in love and reached out. The three-piece went on to release their debut EP ​'I'm Ready' ​and quickly amassed a cult following stateside, garnering praise from the likes of ​Billboard​ and ​The New York Post.​ With 'Weak', AJR have their eyes on the UK, itching to bring their undeniable hooks and boisterous live show to a new audience.
A testament to the immediacy of their bubbling electronics and instant pop melodies, AJR have already garnered huge acclaim across the globe. The accompanying lyric video for 'Weak' has amassed ​over a million YouTube views in just three months, ​while its predecessor 'I'm Ready' has over ​18 million YouTube views ​and ​44 million Spotify streams​, plus a spot on the soundtrack for ​Amy Schumer's box office smash 'Trainwreck'. ​Having already played huge shows supporting the likes of ​Demi Lovato​ and Train​ on tour - as well as a show at ​The White House ​in support of the ​IT'S ON US Sexual Assault Campaign ​- the band's following is rapidly flourishing, with dizzying success surely on the cards for 2017.
Craig & Scott x
Track listing:
1. Steve Smart Club Mix
2. Cheat Codes Remix
3. Jaded Remix
4. DJ Mike D Remix
5. Party Pupils Remix
6. Gazzo Remix
7. Steve Smart Radio Edit