She Can't Love You (New Mix)
Release date: TBC Label: Thylacine Sounds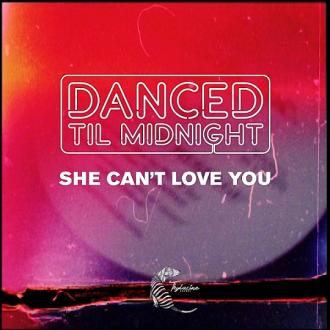 DANCED TIL MIDNIGHT "SHE CAN'T LOVE YOU"
NEW SINGLE RELEASED FEBRUARY 2017
A fusion of soul and spirit; Danced Til Midnight is the brainchild of producer, DJ and musician Andy Anderson and singer/songwriter Carmelle Cox.
Danced Til Midnight made its first impact in March 2015 with their debut the Sun Bleach EP with fresh new imprint Thylacine Sounds. The EP, which also made it to vinyl press secured support from purveyors of disco Tensnake, Miguel Campbell and Severino among many others. In addition, online dance music authority The Ransom Note gave Sun Bleach a solid 5/5, alongside rave reviews from tastemaker blog This Is Why We Dance.
Andy, who cut his teeth as a DJ around Southend's growing music scene, met Wiganborn vocalist and The Dunes' front woman Carmelle on East London's soul club circuit. Inspired by a mutual love of all things funky the duo embarked on a musical partnership to create something truly unique; electronic sun drenched grooves with nostalgic nod to the funk sounds of old.
Collaborating with a range of artists including brass collective The Killer Horns (BonoboTours) and Boiler Room regular Tall Black Guy, their uplifting yet emotional blend of old and nu skool continues to attract all the right attention.
The duo host regular Friday night guest spots on the uber cool Soho Radio, plus their summer 2016 follow up; More of Love, boasted a remix by kings of disco Faze Action and netted a solid 9/10 score from the mighty Mixmag and coveted approval from seminal online authority Data Transmission.

Danced Til Midnight's latest release, She Can't Love You, also with Thylacine Sounds is due for release on vinyl in February 2017, with a digital version following in March. Featuring the smooth RnB style vocals of London based vocalist Iljeoma, this single packs more attitude than their previous offerings with provocative, cheeky vocals sitting beautifully over old school synth arpeggios while the Egyptian Lover remix is 80's electro at its finest. The full length mix is made for the dancefloor; an inimitable groove supercharged with a solid kickdrum above which a funky bass guitar elevates the radio edit to the next level.
Most notably Danced Til Midnight are capturing the attention of some of dance music's most respected brands including Ibiza Global Radio, with The Revenge Remix of No Way Backfeatured on their inaugural Sounds of Ibiza compilation, and Defected's Ibiza The Closing Party 2016 compilation.
With a new prime time Saturday residency at Soul Radio UK, further collaborations with a range of credible artists on the horizon and plans to launch a live gig experience this is one outfit who will keep us dancing way past our bedtime into 2017!
https://soundcloud.com/dancedtilmidnight
https://www.facebook.com/dancedtilmidnight

https://twitter.com/danced2midnight

https://www.mixcloud.com/Dancedtilmidnight/
Track listing:
1. Kenny Summits Space Terrace Mix