Looking For A Place Called Home (REMIXES)
Release date: 16/12/2016 Digital release date: 16/12/2016 Label: 141a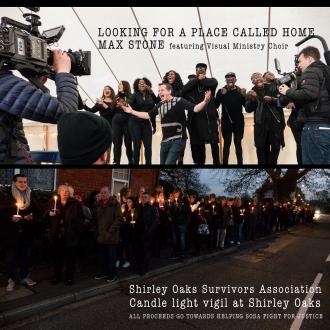 MAX STONE FT. VISUAL MINISTRY CHOIR
"LOOKING FOR A PLACE CALLED HOME"
NEW SINGLE - DEC 16
* GARAGE / HOUSE REMIXES *

PART OF A CAMPAIGN TO RAISE AWARENESS FOR THE SHIRLEY OAKS SURVIVORS ASSOCIATION (SOSA) CHILD ABUSE: WE ALL NEED TO UNITE TO MAKE A STAND
iTUNES PRE-ORDER:
https://itunes.apple.com/gb/album/looking-for-place-called-home/id1183398743



'Looking for a Place Called Home started as a track with Tanika Bailey to feature in my new album. It was written as a song to reflect the struggle to find a place to call you own. My manager Raymond Stevenson has been leading the SOSA campaign and I wanted to help. When he asked if the song could be used to help build awareness it felt like it was meant to be. I re-recorded the song to better reflect the Shirley Oaks survivors' struggle." Max Stone

The track is released to raise awareness for Shirley Oaks Survivors Association. SOSA works to highlight the abuse suffered by hundreds of former Lambeth Care children in the UK's largest children's home Shirley Oaks, based in Croydon and run by Lambeth Council. SOSA also hope to raise awareness for the national problem.


SOSA Background

On Dec 15th , SOSA will publish their report after a two-year investigation of Shirley Oaks Children's Home which identifies 60 pedophiles connected to the home.

Looking For A Place Called Home not only relates to SOSA members but is also dedicated to all victims of child abuse and the recent revelations around footballers. Using music and video to reach out to people, SOSA hopes the song will raise awareness and unity. If we are going to protect our young people, society must unite and stand together.

Of all the scandals covered up by the child abuse inquiry, currently chaired by Professor Alexis Jay, the story of Shirley Oaks care home is among the most shocking and disturbing of all. Alongside the crisis-hit public inquiry, currently on its fourth chairwoman in just two years with several senior lawyers resigning in recent weeks at a cost of over £100 million, SOSA has compiled its own independent report, taking testimonials about abuse from over 400 of its members.

The SOSA report features witness testimony, extracts from official documents that have been leaked to them, as well as statements from former staff and "house parents" who now support them and will prove that Shirley Oaks was infiltrated by pedophiles from the mid-1950s until its closure in 1983. They have identified 60 pedophiles and the investigation has led to a number of arrests outside of official police investigations.

On Friday 18th November, SOSA officially withdrew from the public inquiry branding it an 'unpalatable circus' and stating that it has lost confidence in the leadership.

The inquiry, set up by Theresa May when she was Home Secretary, has repeatedly stressed that the confidence of victims and survivors in the inquiry is paramount. Yet Professor Jay has not contacted or met with the SOSA since her appointment in August. The inquiry has been beset by difficulties since it was set up in July 2014 to investigate allegations made against local authorities, religious organisations, the armed forces and public and private institutions in England and Wales, as well as people in the public eye.

Three chairwomen - former president of the High Court Family Division Baroness Butler-Sloss, her replacement, leading lawyer Dame Fiona Woolf, and Justice Goddard, a New Zealand High Court judge - have already stood down before Prof Jay took her place. Following the resignation of four barristers over recent weeks who resigned over the handling of the inquiry, QC Michael Mansfield says there has been a "dismal failure" to work with survivors groups when picking candidates to lead the inquiry. In an interview with BBC's Newsnight he said the inquiry has "crumbled" adding: "What has gone seriously wrong here is a dismal failure to consult with the survivors' groups from the beginning, about appointments and about the substantive materials that have to be assembled."

Shirley Oaks Children's Home
Shirley Oaks children's home was based in Croydon, Surrey on a 70-acre site with 52 houses which catered between 8-14 children. Complete with its own school, swimming pool, works depot and a doctor's surgery it was the only world most of the children would know. It opened in 1904 to glowing reports with the Southwark Annual stating how Shirley Oaks was a model village created for children whose parents had died or were unable to look after them. The mission statement was to train the children in a career away from the physical disadvantage of the crowded districts and from the morally injurious influences which are powerfully demonstrated in the streets of the great metropolis. Tens of thousands of children passed through the gates of Shirley Oaks. For most vulnerable children aged between 2 -10 years, it was easy to believe they had been sent to an outpost of heaven. Lush green fields surrounded the village style setting with houses branching off the enclosed ring road which would end up being a road paved to hell. Sadly for most of the children they would have been better off to fend for themselves on the streets than being left in the hands of the state controlled children's homes.

Raymond Stevenson and Shirley Oaks Survivors Association
Raymond Stevenson who developed Jessie J and worked with acts such as Big Brovazs, Marsha Ambrosius, Ava Leigh and many more, attended Shirley Oaks from 1967 - 1978. At 13 years old he was kicked out of Shirley Oaks and was sent to a boarding school in Surrey returning to Shirley Oaks at weekends and school holiday until the age of 15 where he was then sent to another children's home where child abuse took place . Away from the cold, harsh environment he flourished and pursued the one good thing he remembered from the home which was the acting and dancing classes. From here, he attended the Laban Dance Centre and then won a scholarship at The Rambert School of Ballet. At 26 he joined the Royal Shakespeare Company. After this he started a production company with his business partner Lucia Hinton and staged concerts and ran their own nightclub
https://www.facebook.com/maxpofficial/
https://twitter.com/MaxStoneMusic

#SOSAhome
Track listing:
1. Looking For A Place Called Home (Garage Mix)
2. Looking For A Place Called Home (House Mix)