Sofia Reyes "R.I.P" ft Rita Ora & Anitta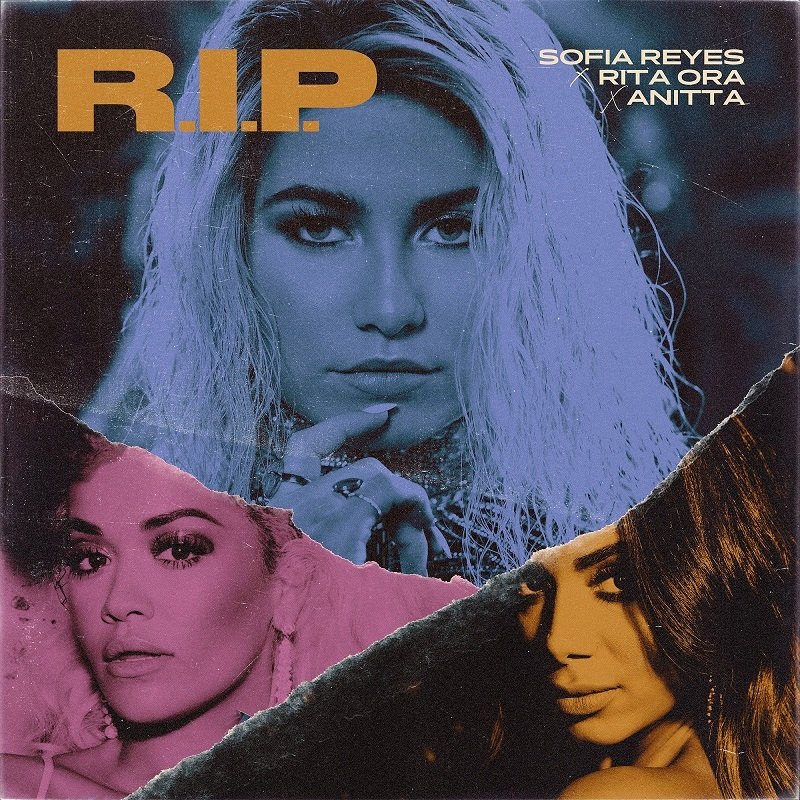 Sunday 7th April 2019
R.I.P ft Rita Ora & Anitta
Release date: TBC Label: Warner Music
Chart-topping Latin GRAMMY® nominee Sofia Reyes is ready to say R.I.P. To The B.S. – and she gets that message across with some powerful support in her anthemic new single "R.I.P." with Rita Ora and Anitta. Amid Latin influenced world sounds and rhythms and pop riffs with an electronic spice, the three women call for an end to the forces draining our world of hope, compassion and joy. Reyes wrote "R.I.P." with her powerhouse core team of songwriters Shari Short, Omar Tavarez, Chaz Mishan, and artist Thomas Augusto. The Fliptones (Jason Derulo, Flo Rida) and producer/artist Tainy (Cardi B, J Balvin) gave life to the track, Rita Ora and Anitta added their pens to the song, and the result is this anthem.
Sofia Reyes' "R.I.P." with Rita Ora and Anitta was released today by Warner Music Latina. It is available for download / streaming HERE. The three artists invite fans to share the obstacles they are saying "R.I.P." to using the tag #RIPToTheBS. See Reyes' post HERE.
Reyes, Ora, Anitta and a group of diverse, talented women joined forces for the accompanying video, which was directed by Eif Rivera (DJ Khaled, Lil Wayne). Video will be available on YouTube Friday March 15th at 12:00AM Eastern Standard Time.
Sofia Reyes explains, "'R.I.P.,' it's not only a song, but a message that we all need to hear. We all need to be encouraged to walk away from all the bull++++ that's holding us back. It was also incredibly empowering for me to work with these two super women. I loved that we got to mix all of our cultures up with one message that we can all agree on."
Rita Ora adds, "Collaborating with other artists is one of my favorite things about making music, the way that everyone works together and the energy everyone brings. We all brought so much passion to this song and it was so much fun dressing up to shoot the music video. Working with Sofia and Anitta was an amazing experience, and I can't wait for fans to hear the track!"
Anitta says, "When Sofia Reyes invited me, I accepted right away. Sofia and Rita Ora are amazing singers. The song is an R.I.P. to the bull++++, to boring people, to wasting time. It's also in Spanish and English and it even has a little Portuguese. I just love the lyrics. The video is really beautiful, colorful and different from everything I've ever done. We filmed it in January, in Los Angeles. So happy to collab with these super talented women and to represent Brazil in this song!"
Reyes is the artist of the week on Spotify's ¡VIVA LATINO! Flagship playlist. "R.I.P." follows her 2018 global smash "1,2,3" (feat. Jason Derulo and De La Ghetto), which is certified RIAA Latin Digital Single – Platino in the U.S. The song has been heard in advertising campaigns for Jeep and Target while the official video has nearly half a billion views on YouTube. The 23-year-old artist has recently featured on songs by Slushii ("Never Let You Go") and Yellow Claw ("Bittersweet").
Born in Monterrey, Mexico, Reyes got signed at 16 by independent record label BAKAB, with whom she started her solo career in Los Angeles. After indie success and award nominations, Warner Latina and Bakab joint ventured on Reyes´ solo global project. Her debut album, Louder! entered the Current Latin Albums chart at No. 1 in 2017. Now certified Platino by the RIAA, it includes the No. 1 hits "Muévelo" feat. Wisin, "Conmigo (Rest of Your Life)" and "Sólo yo" with Prince Royce. Billboard selected her for their "Next Up New Artists" program and included Reyes in their "20 Hot Latin Acts in Their 20's" list. Reyes also holds campaigns with Pepsi, Garnier, Spectrum amongst others.
Rita Ora is an international pop singer with multiple #1 singles and holds the record for the most Top 10 singles for a British female artist in the U.K. Her first album, Ora, premiered at #1 on the UK charts and was certified Platinum. Her U.S. debut album, Phoenix, has amassed 1.7 billion streams worldwide, spawned three Platinum singles and includes "Lonely Together," her collaboration with Avicii which won Best Dance VMA at the 2018 MTV Video Music Awards. Ora is also a multi-talented industry leader across TV, culture and fashion, with brand partnerships across key sectors. Her film credits include the Fifty Shades of Grey franchise, Fast & Furious, Southpaw and the upcoming Detective Pikachu.
Anitta rose to prominence with the 2013 single "Show das Poderosas," which earned her 2013 Multishow's Brazilian Music Awards in the categories "Earworm" and "Best Video Music." She released her self-titled debut album in 2013 and the follow-up, Ritmo Perfeito, in 2014. A steady stream of No. 1 singles at Brazilian radio followed. In 2015, she released Bang, which is her best-selling album to date. The winner of numerous international awards, she has collaborated with such artists as J. Balvin, Alesso, Major Lazer, Poo Bear, Pharrell Williams and Iggy Azalea. Anitta has over 10 million followers on her YouTube channel, with video views now surpassing 2.7 billion. Her 2018 Netflix docu-series, "Vai, Anitta," expanded her fanbase further and was the #3 trending series in the U.S.
And thanks to the guys at Warner Music, We are delghted to present this MAJOR tune to smash out to the max.
We LOVE this and know you will too so please push to the max
Craig & Scott
Posted by Craig Jones