"Ring Ring".... Who is it?..... It's Jax Jones back with another sure fire hit!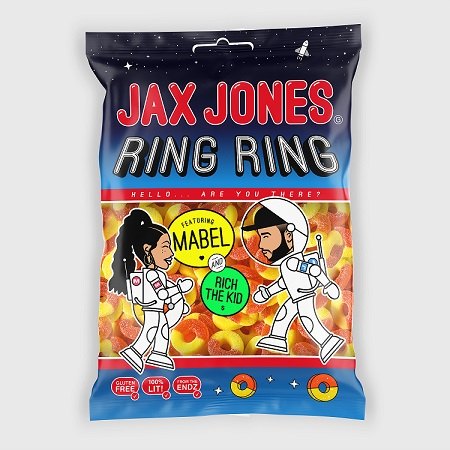 Wednesday 27th June 2018
Ring Ring ft Mabel & Rich The Kid
Release date: TBC Label: Polydor
International hitmaker and fastest rising UK dance act, ?Jax Jones? today unveils his brand new single '?Ring Ring?', featuring rising star ?Mabel ?and ATL rapper ?Rich The Kid,? out now via Polydor Records.
Having previously worked with the likes of Demi Lovato, Stefflon Don, Raye and Ina Wroldsen, ?Jax continues to choose collaborators which set him apart from the current crop of dance hit makers.

Jax says ?"?I wanted to try and make something different to previous Jax Jones singles with Mabel, step away from the club and show more range, but something you can still have a little dance to. Mabel was a brilliant collaborator, she lives and breathes everything she sings about, so to be part of that process in the studio was exciting. And then getting Rich The Kid felt right, the second Transatlantic collaboration I've done after Demi, and one of the hottest rappers of the moment in the U.S.?
"Nominated for this year's BRITs Critics Choice Award, Mabel has accumulated over 90 million streams and toured with the likes of Harry Styles and Bryson Tiller. Her smash hit single 'Finders Keepers' spent five weeks in the UK top ten and became one of the biggest singles of 2017.
Speaking on the track, ?Mabel ?says "?Working with Jax on Ring Ring was such a fun experience. We spent two days in the studio together but we didn't actually start writing Ring Ring until the last hour of the session. It literally felt like the song was writing itself and the whole process was so exciting! It's about regaining your power in a situation where you feel like you've been treated badly and how you can always put yourself back in the driver's seat? ."
As one of the hardest working rappers in the game, ?Rich The Kid ?has previously collaborated with the likes of Pusha T, Kendrick Lamar, Diplo and 21 Savage to name a few. He released his debut album 'The World Is Yours' earlier this year which has amassed over 500 million Spotify streams and features guest appearances from Lil Wayne, Quavo, Offset, Khalid, Rick Ross, Future and Chris Brown.
As number one in British dance exports and one of the worlds most sought after producers, Jax has achieved what most artists can only dream of. As well as being one of the few Brits to be included in the Billboard Dance 100 2018 - alongside the likes of Diplo, Marshmello and David Guetta, Jax has had BRIT and Grammy nominations, and is in the top 100 most streamed artists in the world having accumulated over 1.6 billion streams. He's sold over 11 million singles, accumulated over 502 million Youtube views and has amassed over 10 million shazams.
With a busy summer ahead of him supporting global pop superstar Demi Lovato on the UK leg of her world tour and festival performances at Tomorrowland, Hideout, Exit and Electric Love festival to name just a few, Jax Jones is showing no signs of slowing down.
And thanks to the guys at Polydor, you have this massive exclusive to hammer out to the max. We LOVE Jax Jones and this is a SMASH so please make sure you are on the case for this NUMBER 1 PRIORITY!
Craig & Scott
Posted by Craig Jones