"Girls X Boys" it's Alice!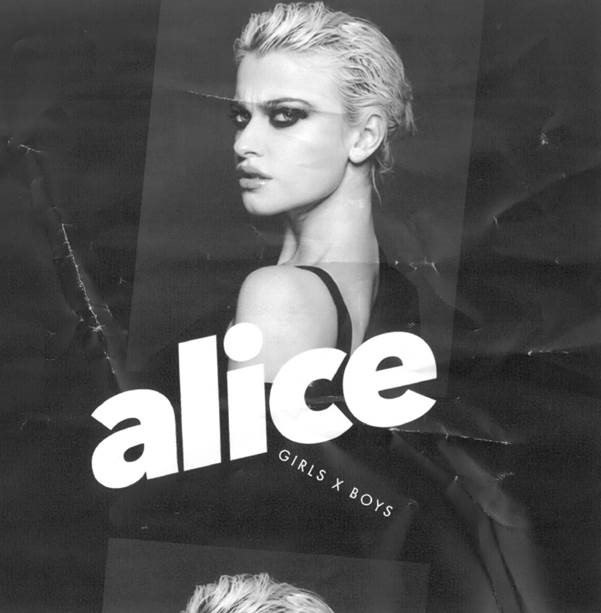 Monday 30th April 2018
Girls X Boys
Release date: TBC Label: Virgin EMI
Pocket rocket pop newcomer alice today premieres the video for her debut single, GIRLS X BOYS.
As an introductory track GIRLS X BOYS is the perfect encapsulation of what makes alice so special. Produced by Swedish pop impresario LIOHN, the track is a provocative pop banger that pays homage to the past while looking firmly forward.
The clip, directed by Chris Turner aka 'Favourite Colour Black', gives a taste of what is to come. A triple-threat superstar in the making, with high-concept videos, on-point choreography and attitude-laden vocals that aren't afraid to belt.
"GIRLS X BOYS is all about being rid of labels, being open minded with a free spirit" says alice. "When we wrote it I was adamant that the lyric should be inclusive of everyone. I hope it talks not only to my generation but to everyone. The vibe of the track is definitely representative of my darker side and I like that it's about exploring things sexually whilst also expressing my confidence as a woman and an artist."
Bored of a modern pop landscape that's rigid and way too-cool-for-school, alice is here to shake things up, with the help of some of pop's biggest names: Max Martin's right hand man Rami Yacoub; fellow Swede Carl Falk; Years & Years' producer Mark Ralph; Katy Perry collaborator Bonnie McKee and Mozella, who penned Wrecking Ball. Alongside her every step of the way has been her songwriting mentor Kee Ingrosso, wife of Sebastian Ingrosso, and co-writer of J.Lo's On The Floor among others.
If that's not enough, she impressed will.i.am so much after a one off meeting on a night out that he's become a mentor, helping kickstart a major label rush that was won by Virgin Records in the UK and Capitol Records in America.
"I'm inspired by real entertainers," she continues. "Those are the elements I grew up with. I love the old music videos where the choreography was so fierce and of such a high standard. I want full on choreography, theatrics, acting, and absolutely loving being a pop star. I'm also heavily influenced by old Hollywood glamour. I love that aesthetic, so there's always a nod to that too."
alice is a proper, multi-faceted pop star who can actually properly sing, dance and perform, who is as vulnerable as she is fierce. "I just love pop bangers that make you feel amazing and make you want to dance," she says. You can't say fairer than that really.
Craig & Scott
Posted by Craig Jones