Jason Derulo is back with the 2018 FIFA world cup anthem "Colours"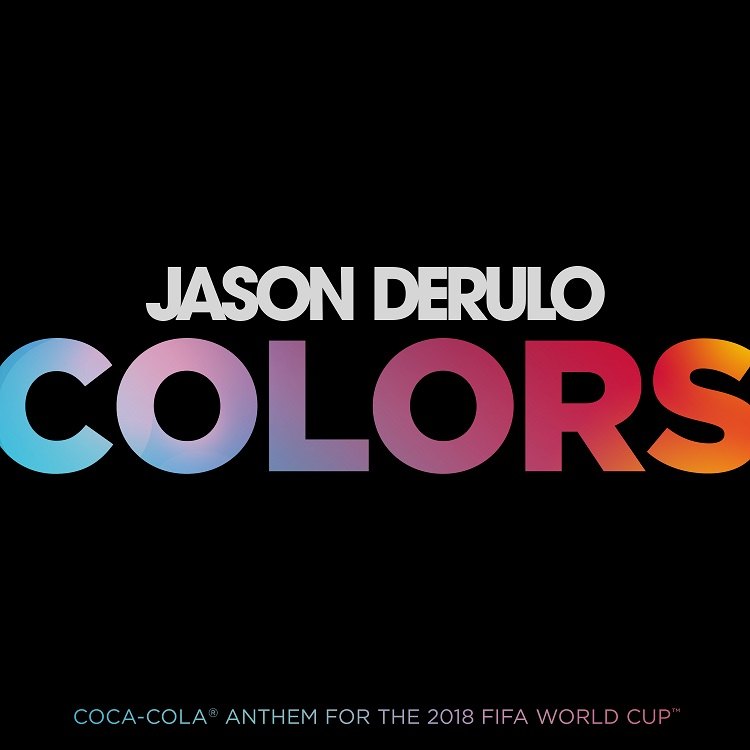 Thursday 5th April 2018
Colours
Release date: TBC Label: Warner Brothers
Jason Derulo has released 'Colors', theCoca-Cola anthem for the 2018 FIFAWorld Cup™. The song is a true collaboration between Coca-Cola andJason Derulo, and celebrates all of the vibrancy and excitement that comes with the arrival of the world's biggest football tournament.
Jason Derulo said, "It was a pleasure working with Coca-Cola to create the anthem for the 2018 FIFA World Cup™. It's a tournament that celebrates athletic excellence and I'm honoured to provide the soundtrack. Through my years of travel, I've been able to see the beauty in our cultural differences and I wrote 'Colors' to celebrate that diversity and be a part of the amazing energy that sports fans around the world give to their teams."
Ricardo Fort, VP of Global Sports Partnerships at The Coca-Cola Company added, "We know that the FIFA World Cup is a global cultural and social phenomenon. Every four years, people are drawn to this event from all over the world due to the excitement and platform it provides. We believe that music and football are intrinsically linked by the passions they evoke so we are excited to welcome Jason to the team and can't wait to bring this upbeat anthem to the world ahead of the 2018 FIFA World Cup™".
Jason Derulo is a multi-Platinum powerhouse with 115 million-plus single equivalent sales worldwide. Cumulative streams continue to soar, exceeding 7 billion while YouTube views surpass4.6 billion.
In the UK, Jason Derulo has topped the charts with four #1 smash hit singles in the shape of 'In My Head', 'Don't Wanna Go Home', 'Talk Dirty' and 'Want To Want Me'. In addition, he has also landed another nine Top 10 hits including his 2009 debut 'Whatcha Say', a feature on Little Mix's 'Secret Love Song' and most recently 'Tip Toe'.
Jason Derulo is set to embark upon a European tour that commences in September
Official: http://www.jasonderulo.com
Spotify: https://open.spotify.com/artist/07YZf4WDAMNwqr4jfgOZ8y
YouTube: http://www.youtube.com/JasonDerulo
Twitter: http://www.twitter.com/jasonderulo
Facebook: http://www.facebook.com/jasonderulo
Craig & Scott
Posted by Craig Jones